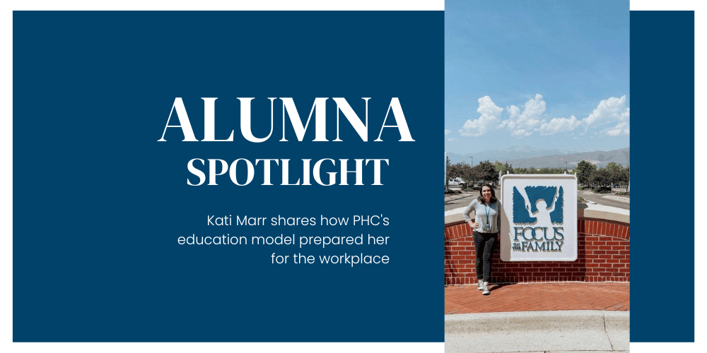 Alumna Kati Marr (Journalism, '22) listened to the first podcast she worked on for Focus on the Family over the radio. "I only had to listen to three seconds of it and I knew it was my program," Marr said. "It was so satisfying … I was so exited."
After interning with Focus on the Family in the summer of 2021, Marr applied for the Assistant Producer position in their Broadcast department. She was later offered the job. While writing scripts and editing podcasts, Marr made a surprising discovery. "I did not realize how much PHC had prepared me for this job because the job is in broadcasting–PHC does not have a broadcast[ing] program." While she still has a lot to learn, Marr recognized that her PHC education played a significant role in her job preparation. "I am using so many skills that I never thought I would use again in my life," Marr said.
Marr applied for that job in the Broadcast department in January 2022. She did not hear back for awhile. "I was like, 'Well, I tried,'" Marr remembered. Then she received a call from Colorado Springs. She picked up the phone and the voice on the other end said, "Hey, do you have ten to fifteen minutes for an interview?" Following that preliminary interview, she had an official interview and a writing test. A week later, she received the job offer. "I found out later that I was the best interviewer, [and the] youngest applicant," Marr said.
After working for Focus on the Family for almost five months, Marr reflected on how she uses skills she acquired at PHC on a regular basis. Through the core classes and extracurriculars, Marr learned many skills that help her in her job. While a student, Marr felt frustrated when she had to take certain classes, but now she sees the benefits. "I am so grateful that I had to take a variety of things."
One of Marr's daily tasks is writing scripts. "I am writing two to three [broadcast scripts] a week. Each one is easily 3,000 to 4,000 words," Marr said. Through writing articles for PHC's student newspaper, the Herald, and papers for various classes, Marr felt prepared to meet the challenge.
Through Mock Trial, Marr learned to pick out the most important pieces of information to convey to the judge and jury. "[I] have to do the same things [with] the books and the guest [on the broadcasts]," Marr said. "We have to pitch [our ideas] and defend them. … [I am] literally on the witness stand again. I have given my [story] that I have practiced, and they are cross-examining me."
Marr hopes to go eventually go back to school and earn a master's degree in either screenwriting or film production. In the next few months, Marr will move to a new position: a producer of her own podcast. Ultimately, Marr wants to stay at Focus on the Family as long as she can.
"I was pleasantly surprised [to see] how PHC prepared me for my job," Marr said. "I am so thankful for the experience … The lessons I learned from PHC will be ones I will never be able to forget."