In Spring 2014, Patrick Henry College hosted the Pensmore Dialogue on Science and Faith, where close to a thousand people from across the country packed the Patrick Henry College gymnasium. At this event, Dr. John Lennox—Oxford University professor of mathematics, renowned speaker, and author of titles God and Stephen Hawking and Can Science Explain Everything, among many others—spoke on the origins of life and the roles of science and faith in the Christian worldview.
This momentous PHC event took place in large part due to Pensmore Foundation's founder, Steve Huff, whose passion reflects the College's mission to equip students, families, and Christians from all walks of life to understand the clear intersections of science and biblical truth.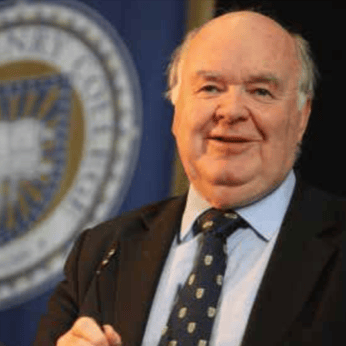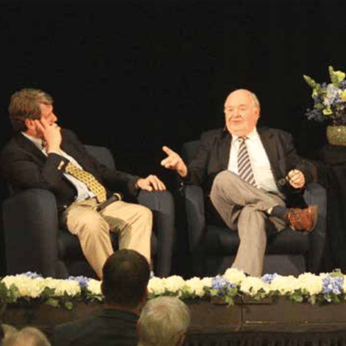 Pictured above: John Lennox at PHC in 2014

"I'm a great fan of Patrick Henry College," Pensmore Conference founder Steve Huff said. "The College is producing leaders of the next generation who need to see and hear these arguments."
Seven years later, the Pensmore Foundation has produced the documentary motion picture, Against the Tide. In this film, Dr. John Lennox furthers the question he tackled while speaking at Patrick Henry College: Do science and history refute the Christian worldview?

Click Here To Order Your Copy Today!

"'In the beginning God created the heavens and the earth' is one of the most famous statements in history," Lennox said. "Those words are as powerful and meaningful today as they ever have been."
Dr. Lennox has publicly debated some of the world's most celebrated atheists—among them Richard Dawkins, Christopher Hitchens, and Peter Singer—and in this compelling film, Lennox stands firm: "Properly understood, the evidence inexorably points to the existence of a creator God."
Join Lennox and Kevin Sorbo—veteran Hollywood actor and director, known for his lead roles in Hercules, God's Not Dead, and Let There Be Light—as they journey from Oxford to Jerusalem tracing the intersection of science, history, and the Gospel.
"It is important in the current debate that Christians are characterized by thinking more, rather than thinking less," Lennox said. "The idea of science on the one side and God on the other... is dangerously false. What we're dealing with is a worldview conflict."
Last year this powerful film was released theatrically nationwide and is now available to bring to your home on DVD and Blu-ray.
----------