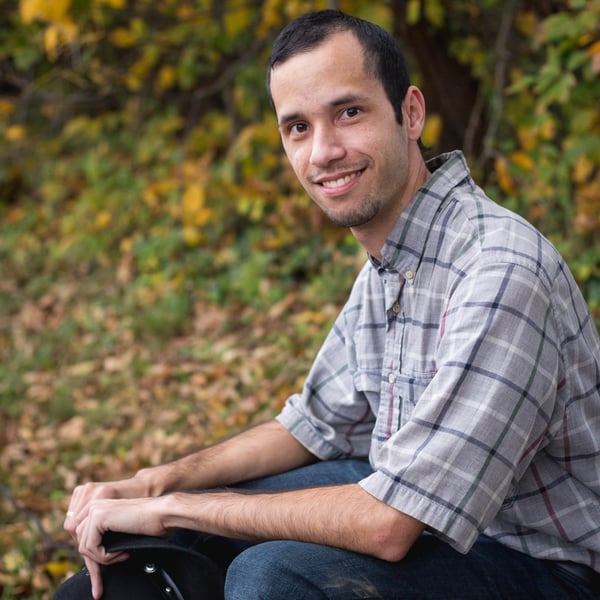 Knees locked, the angular man shuffled toward the table. "There is no need to run," he rasped to those seated. "Stand and pray, mortals, for the Spectral Army descends, and you may still be granted mercy."
Suddenly, Aaron Kamakawiwoole relaxed, breaking the spell of his immersive storytelling and explaining to the role players gathered around the table that they had the option either to join the undead army attacking their city, or try to flee to a safe location.
To many on campus, "Aaron K," as he is commonly known, is a beloved admissions counselor. To others, he is the designer and leader of the Warriors of Zurn role-play game groups. But he is someone who can swoop in and help people, both on and off campus, and he has put in a great deal of effort to live up to that ideal since coming to work at PHC.
[Related Post: Admissions - Aaron Kamakawiwoole]
Kamakawiwoole had looked at a few other colleges, but PHC was his life dream. He was accepted, and initially chose a Government major with several literature classes on the side.
However, an internship at ParentalRights.org taught Kamakawiwoole that government is not his calling. "It was a lot of fun," he said, "and I learned a lot, not the least of which was that I hate politics. I'm glad the Lord showed me that before I decided to try it as a career and burn myself out on it."
The only job he could get was working with his grandfather building a house and garage, which taught him many skills he could later use to help friends. However, building houses didn't create a steady flow of income. So after his graduation from PHC, and after a great deal of prayer and job hunting, alumni Aaron Kamakawiwoole had no plan for his future.
The Dark Horse Candidate
Fortunately, another rejection turned into a new career path. Kamakawiwoole applied to work as a data coordinator for PHC's admissions office. Someone else filled the position, but the admissions office advised that Kamakawiwoole apply to become an admissions counselor.
In spite of being the dark horse candidate for the position, he made it to the second round of interviews, a simulation of a conversation with an applicant's family. He was the only candidate to bring a slideshow presentation to the interview, and put in about 20 hours of research in order to prepare.
He got the job.
Kamakawiwoole is not certain what he wants to do beyond admissions. He has considered several careers, from teaching rhetoric to hunting pirates.
But instead of determining what he wants to do, Kamakawiwoole prioritizes determining who he wants to be.
"You can apply that no matter what your vocational occupation is," he said. Kamakawiwoole aspires to be a dependable, loyal man of integrity, with a good work ethic, and a good member of his church and his family.
Until a few years ago, Kamakawiwoole considered helpfulness a hobby rather than a lifestyle. One of the reasons he bought a truck was because most people at PHC do not have a vehicle with which they can move large items.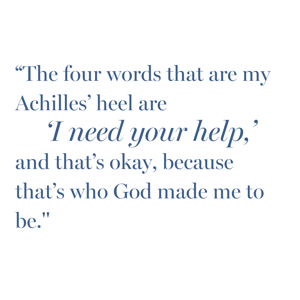 "The four words that are my Achilles' heel are 'I need your help,' and that's okay, because that's who God made me to be," Kamakawiwoole said.
One of the ways Kamakawiwoole has been able to put this into practice recently has been helping Eden Troupe with their production of Shakespeare's Macbeth. The play involves many soldiers and fights; soldiers need armor to fight, and the costume department needed armor for the soldiers. Kamakawiwoole had learned to make chain mail in preparation for a Teen Camp a few years ago, and when Eden Troupe's costume department told him they were swamped, he was more than willing to help with the armor.
Jane White, one of the students involved with both the play and the armor crafting, said that Kamakawiwoole made most of the leather armor, using strips of faux leather riveted to a t-shirt. The armor was durable enough to protect student actor Nathan Karnes from injury when fellow actor Jimmy Waters accidentally stabbed him in the chest with a practice sword during rehearsal. Kamakawiwoole also helped choreograph the fight scenes of the play, many of which involved large numbers of actors in combat at once.
Kamakawiwoole also sees his roleplay game, The Warriors of Zurn, as a means of being helpful. Zurn was formed in several dreams that Kamakawiwoole had as a child – he did not so much create the land of Zurn as he woke up in it. The game is not intended to be a form of escapism; rather, it is a chance to become a hero and go on adventures, with plenty of opportunities for both the character and the player to grow along the way. "It is designed to help you learn about yourself," Kamakawiwoole said. He plans to launch the game into a national company, as well as fund a Zurn Foundation scholarship for PHC.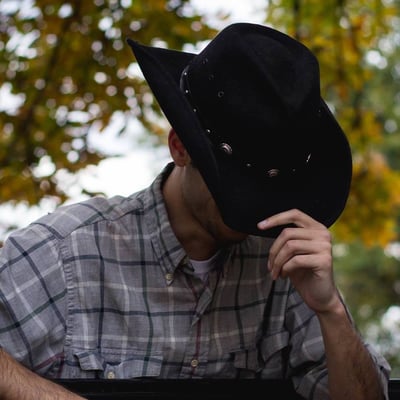 Kamakawiwoole has influenced many students, both in and out of the admissions process. White said that since he was available to talk on Facebook, she didn't face the pressure of composing an email. "It was like I was talking to a friend, and that allowed me to associate a friendly, helpful person with the school." Will McManus described Kamakawiwoole as "a modern cowboy from Hawaii," adding that Kamakawiwoole likes to associate with "sensible nerds."
Kamakawiwoole has impacted many people on PHC's campus, whether by helping them fulfill their dreams of coming to the college, by helping out students in need, or by fixing wobbly tables in the dining hall with a wrench that he keeps in his office for just that purpose.
"He has shaped the atmosphere of the college by being here and by being somebody that I know cares," White said.
-----------------------
This story courtesy of PHC's The Herald.