By Noelle Garnier, with contributions from Belle Tague, staff writer for The Herald
Click here to watch the 2016 American Moot Court Association National Champioship.
Patrick Henry College had won its ninth American Moot Court National Championship before the tournament even ended. The other two colleges competing semifinals — Holy Cross and Eastern Michigan University — were eliminated in semifinals, leaving just two PHC teams to compete against each other. Freshmen Chris Baldacci and Caleb Engle faced off against juniors Ashlyn Olson and Jacob Van Ness for the final round.
The competition took place on January 15-16 at California State University at Long Beach. It was PHC's ninth championship win in twelve years; an unparalleled record in the American Collegiate Moot Court Association (ACMA) community.
When the team came together after Christmas, practices were rough. They had done plenty of reading over Christmas break, but no argumentation. A few team members were fighting the flu. "Somehow, things kicked into gear in time," Baldacci said.
While most schools brought three or four teams to the tournament, PHC brought eight teams. They plowed through the first six preliminary rounds with few difficulties, but the competition stiffened in out-rounds.
For Olson and Van Ness, this tournament was a closing chapter. "We both knew that it was the last time Ashlyn and I would be able to have a shot at this together, and frankly that was hard," Van Ness said. For Baldacci and Engle, looking ahead to as many as three more years of competition, each winning round exceeded their expectations.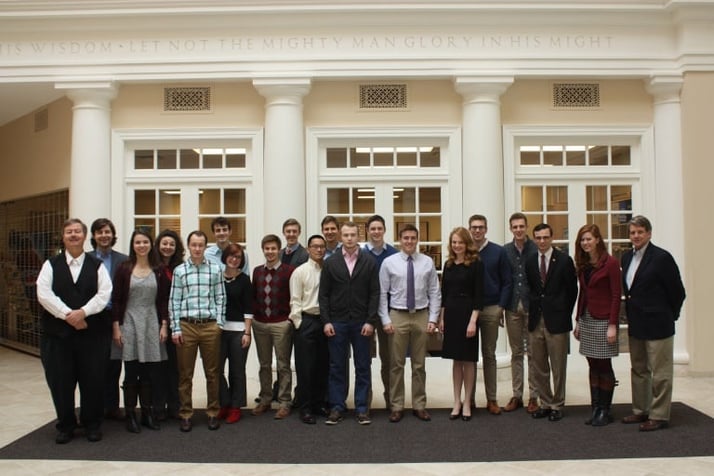 They faced off in a lecture hall with plastic chairs and a concrete floor — unlike the courtroom Van Ness had seen in videos. But he described the judging panel as "the most prestigious I'd ever seen." The round was captured on camera for the ACMA website
Engle-Baldacci took the victory.
"The final round between our two teams was the best finals round I have ever seen," said Dr. Michael Farris. "The state and federal judges on the final panel couldn't believe that a team of PHC freshmen sounded like experienced lawyers."
The most recent PHC champions were Kayla Griesemer Ferguson ('14) and Blake Meadows ('14), who won the championship in 2014. Last year, Morehouse College, competing against Claire Rossell and Ben Williamson, broke a six-year PHC winning streak in the final round. Morehouse, whose moot court team had only existed for two years, became the first historically black college to win a moot court national title.
"Oftentimes people say, 'We expect nothing less from [PHC].' But they don't realize this takes hard work. It takes real practice and dedication, which speaks to the quality of our school and our teams," Dr. Frank Guliuzza said.