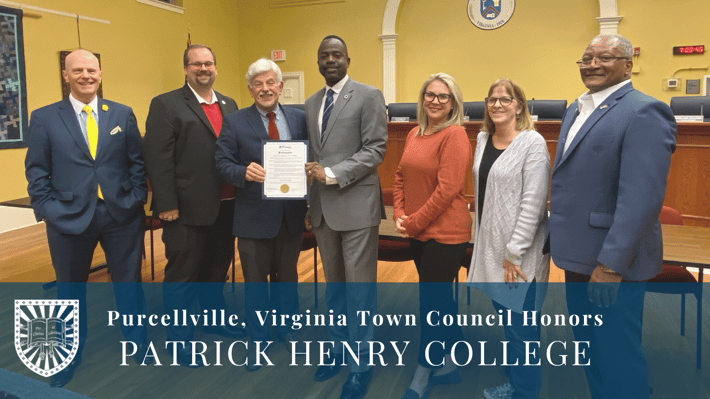 "We are a small town of 10,000 people," begins Mayor Kwasi Fraser after inviting PHC President Jack Haye to come up to the podium to be recognized. "It is a privilege to have our own small town college—Patrick Henry College—within the Town of Purcellville. . . . They have been instrumental over the years of helping us. . . . They have done a great job in putting the Town of Purcellville on the map because of excellence; academically and also in their great management team."
Mayor Fraser reached out to the Office of the President to schedule an opportunity to invite President Haye to a town council meeting to be recognized in a proclamation for having recently earned the best possible review of its curriculum by the American Council of Trustees and Alumni (ACTA).
We've shared previously that PHC recently earned a prestigious ACTA "A" rating and a 100% grade from ACTA's "What Will They Learn?" (WWTL) project. WWTL grades the core curricula at colleges and universities on an "A" through "F" scale based on how many of seven key liberal arts disciplines they require students to study. Requiring all seven, PHC becomes one of only seven schools to meet all of ACTA's requirements—the top among Protestant colleges in the nation.

"On behalf of the Town of Purcellville, I'd like to make a proclamation for Patrick Henry College," continues Mayor Fraser. "Whereas Patrick Henry College is a private, liberal arts, nondenominational, Christian college located in the Town of Purcellville, VA. And whereas Patrick Henry College was founded in 2000 with a vision to preserve America by educating the best and brightest young people to take their place as future leaders of the nation and its culture. . . . Give them a round of applause."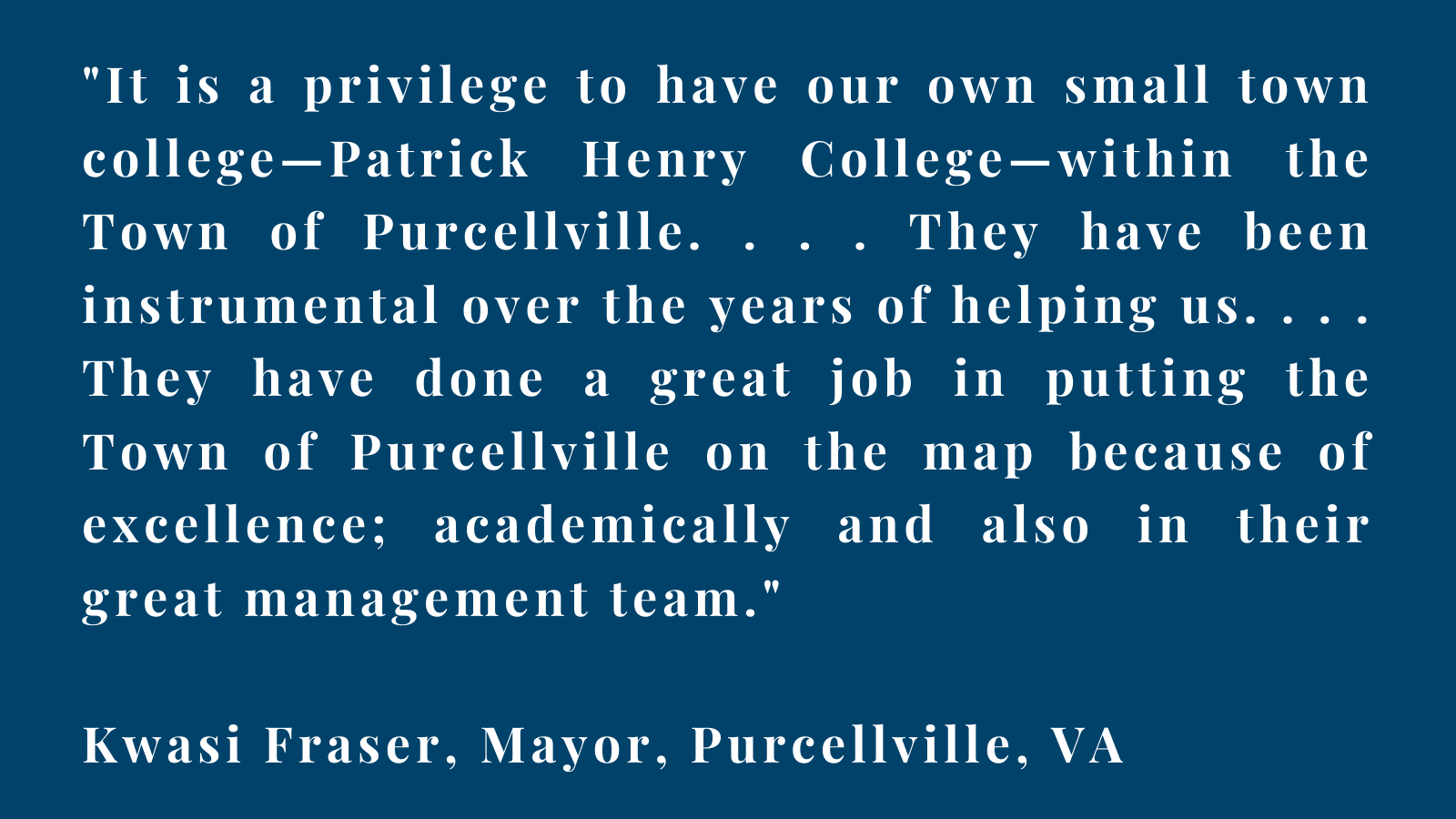 Mayor Fraser then presented President Haye with this proclamation and stood with President Haye and representatives of the Town Council for the photo above which commemorates this historic moment (Photo: Courtesy, Town of Purcellville).
Praise God for establishing such a wonderful home for PHC. May we continue to be a blessing to those in authority an our neighbors. May we continue to shine brightly as an example of excellence for the cause of Christ and for Liberty!