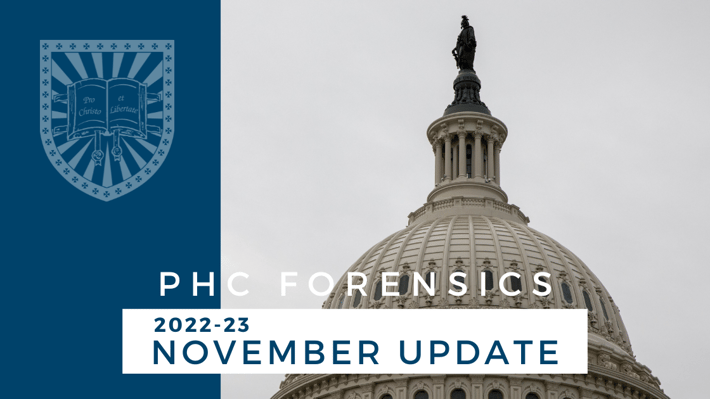 The weekend before Thanksgiving was huge for the forensics program! All three programs—Civic Debate, Mock Trial, and Moot Court—had students competing, and excelling, in competitions. Here are some of the highlights!
This was our final weekend of moot court regional competition. Twelve PHC teams earned slots at Nationals. We are limited to sending only 8 teams, so we'll be making tough decisions in the next several days regarding who will represent the college at Nationals in Baton Rouge, LA in January.

Civic Debate: Saturday, Nov. 19
PHC hosted the William Booth intramural debate tournament. The top team was Jonathan Arens and Nathan Hamel; second place was Jesse Castrinos and Zeke Johnson. The top speaker award was a 3-way tie among Jonathan Arens, Zeke Johnson, and Jesse Castrinos.
Moot Court: Friday and Saturday, Nov. 18 – 19: Albany Regional
PHC sent 2 teams to Albany, and they both did so well that they hit each other in the final round. In other words, PHC "closed out the final round." The team of Andrew Bleiler and Isaac Winnes took the championship on split ballots over the team of Riley Anderson and Noah Johnson. Both teams earned bids to Nationals. Orator awards were awarded to Noah Johnson (4th), Riley Anderson (6th), Andrew Bleiler (7th), Isaac Winnes (8th).

Moot Court: Friday and Saturday, Nov. 18 – 19: Fitchburg Regional
Five PHC teams competed in Fitchburg: Ainsley Stellman/Ryan Olson, Ben Oyer/Bethany Loos, Cana Cossin/Everett Chew, Finn Buck/Sarah Fox, and Luke Argue/Zach Barnes. Four teams advanced to the Saturday elimination rounds, and Finn/Sarah took second place overall, also earning a bid to Nationals! Sarah Fox earned 5th place Orator; others finishing high in oratory were Everett Chew (10th), Cana Cossin (12th), and Finn Buck (17th).

Mock Trial: Saturday and Sunday, Nov. 19 - 20: GAMTI
Eighteen of the best teams in the nation were invited to the 2022 At the "Great American Mock Trial Invitational" (GAMTI). Only teams who've done well at the highest level of the national competition are invited to this prestigious tournament (which is arguably even harder than the National championship due to the quality of the teams).
PHC A ("Amber") took 2nd Place in this, our first time attending GAMTI!
Every round had 3 ballots, and every ballot was filled out by someone with a J.D. PHC A finished with a record of 8-4, hitting UVA's A team (the champion), Tufts University, Northwood University, and the University of Georgia. Silas Landsverk and Allyn Sims each earned Outstanding Witness awards for their portrayals on the plaintiff side of the case.