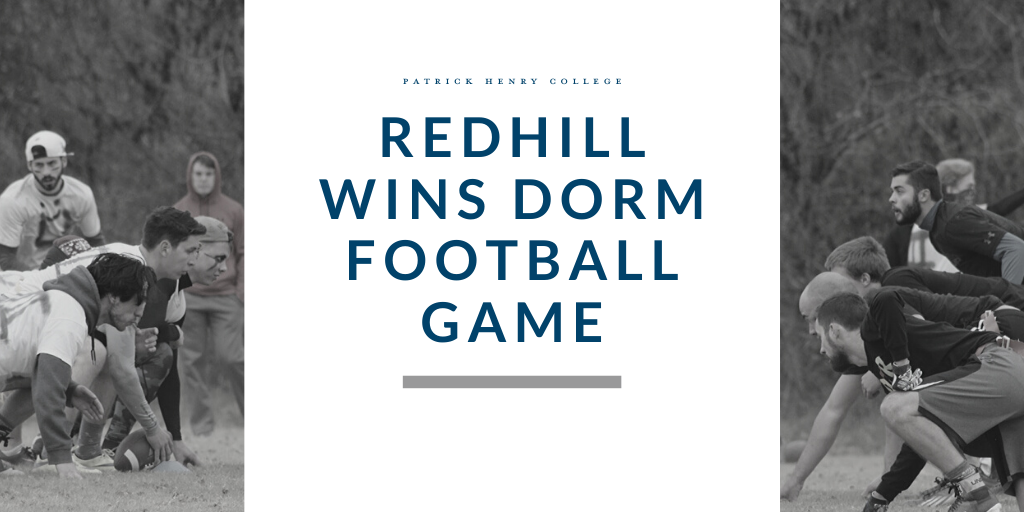 Jackson Katanic ('22) is an Economics and Business Analytics major at Patrick Henry College who calls Colorado home. He is a loyal member of the men's dorm Oak Hill (D4) and a consistent participator in the semesterly flag football game. Here he provides his perspective on the friendly dorm rivalry and this semester's game.
Of the student traditions at Patrick Henry College, one of the most consistently held—and nearly the most sacred—is the men's dorm flag football rivalry game. In the spirit of traditional American sports competition, the two men's dorms, Oak Hill (D4) and Red Hill (D5), compete in an intense yet friendly game of flag football to procure the coveted antelope-head trophy. The loser is left with the mounted antelope skull until they compete again the following semester.
Traditions abound in this friendly rivalry
Each team distinguishes themselves with face paint and team uniforms; D5 wears black t-shirts and D4 wears white. In past years, D5 has focused more on the "uniform" side of uniform, emphasizing uniform coordination and dorm solidarity with matching black t-shirts and shorts. Altogether, this gives the effect of a storm cloud of football players. D4, on the other hand, tends to emphasize creative face paint and intimidating self-decorated white shirts.
The Play-by-Play
D5 managed to protect their winning streak and title for several years now including in the most recent game, which resulted in a score of 23-14 in favor of D5.
While D5 scored first, and rather quickly, D4 followed suit with its own touchdown within the first ten minutes of the game. Sweat poured as the teams muscled for victory, with D5 finally pulling ahead near the end of the third quarter, maintaining its lead until the end.
D5 may remain dominant, but it was significantly challenged in this past game. D4 may expect a return soon.
Because it is a larger dorm—and tends to have a higher number of athletes—D5 has maintained its winning streak the last few years. This is not to say that athletes are lacking at D4. D5 just has more of them most semesters.
Some Battles Bring People Together
Despite all the intense competition, camaraderie still exists between the dorms and they always conclude each game by praying together in a circle, intentionally mixing the teams. Though there may be disappointment on one side, there is never regret playing the game. It's a great way to bond with your teammates and a break from our studies. Two teams compete in the beginning, but celebrate as one team in the end.
Read more about traditional social activities at PHC.
----
Patrick Henry College challenges the unacceptable status quo in higher education by combining the academic strength and commitment to biblical principles that elite institutions have lost; a commitment to high academic rigor, fidelity to the spirit of the American founding, and an unwavering biblical worldview.