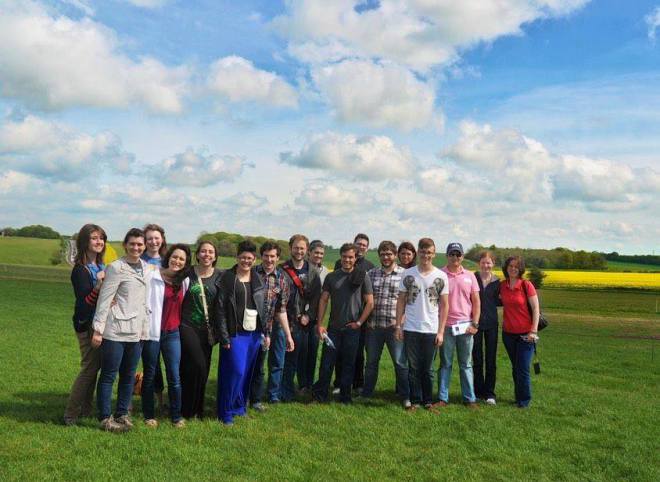 In the last corner of William Shakespeare's house in Stratford-upon-Avon, England, onlookers which included professional Shakespearean actors, watched as literature major Christian Fernandez (16') gave an impassioned performance. Reciting the St. Crispin's Day Speech from Henry V, it was only fitting that Fernandez took on Shakespeare in his own home.
For the first time this year, Dr. Cory Grewell, Assistant Professor of Literature, led a group of students on a 10-day trip to England to give them a sense of place to works of literature.
Students enjoyed plays at the Globe Theater in London, explored the British Museum, saw Christopher Marlowe's "Jew of Malta" at the Royal Shakespeare Company, shared afternoon tea in the Regency Tea Rooms, and visited Stratford-upon-Avon, the Jane Austen Museum, the city of Bath, Westminster Abbey, Oxford, Windsor Castle, the Tower of London, St. Paul's Cathedral, Charles Dickens' home, as well as other palaces and museums.
Savannah Petree (17') had never traveled to another country before, but her dream of traveling to Europe finally came true. "It combined my love of literature with my passion to see the world," Petree said.
Students strolled through the homes and towns that renowned authors such as Jane Austen and Dickens modeled in their books. They also followed the trails of C.S. Lewis and J.R. Tolkien in Oxford by visiting the churches and pubs the authors frequented. "Reading about them is one thing, sitting in the same room they chatted and argued in is another," Petree said.
To Elizabeth Stinette (15'), seeing Charles Dickens' writing desk in his house where he wrote A Tale of Two Cities was a dreamlike feeling that inspired her to write more. "It just gave me the pictures I needed to write what I was imagining in my head," she said.
Apart from visiting the tourist attractions, the group also did things on a whim. For just five pounds, they saw "The Merchant of Venice" when they returned to the Globe Theater one night. "We were like kids looking around in the Globe," Fernandez said. They also visited bookshops and smaller literary sites just because they all shared that same interest, Stinette said.
After a couple days of walking, Stinette started to learn the character of each city and explored bookstores, coffee shops, and restaurants. One of the things that separates England from America, Stinette noticed, is the age-old history of most buildings, whether that means eating KFC in a 250-year-old building or visiting chapels that date back to 1000-1200 AD.
To Petree, the British have different mindsets, different lifestyles, and a different sense of humor. But what America and England share is an obvious need for the Gospel, she said. "The culture seems very secular, just by experiencing it on a day-to-day basis, and although they have a rich history of Church activity, the people there need Christ now," Petree said.
Fernandez expected a more unified culture but found a sense of alienation amongst the "sandwich-based society" where most people are on a run with a sandwich and coffee cup in hand. "Everyone talks about the ear-bud society in America. Well, it's twice as much in London," he said. Getting a taste of British culture also caused him to re-examine England's 'singular' identity and change his outlook on the trend of literature and culture. "You could ask [Dr. Grewell] any question on literature and talk to him about just about anything," Fernandez said.
Indeed, reading about a culture is not the same as being in it, Grewell said, so he hopes to make the trip even better with each year. "England is not different enough to be exotic but it's different enough to be troubling," Grewell said.
The group stayed mostly at hostels which made the trip affordable. "It was probably the most 'exotic' part of the trip for the students," Grewell said.
In a land where beer and pub grub is just about the only cheap food you can buy with American currency, students resorted to a lot of British pastries, but at the tea house in Bath, they also had the unique pleasure of 'tea with Mr. Darcy.' "It seemed like the quintessential British experience not only to have tea in England, as is the norm, but also tea named after one of Austen's leading romantic men," Petree said.
One of the students later discovered a South African restaurant called Nando's in London. "Well, you know they have a Nando's in One Loudoun in Ashburn," Grewell told him. In many ways, traveling makes the world seem a smaller place. "It makes us more inter-connected as a human race—people are people wherever you go," Grewell said.