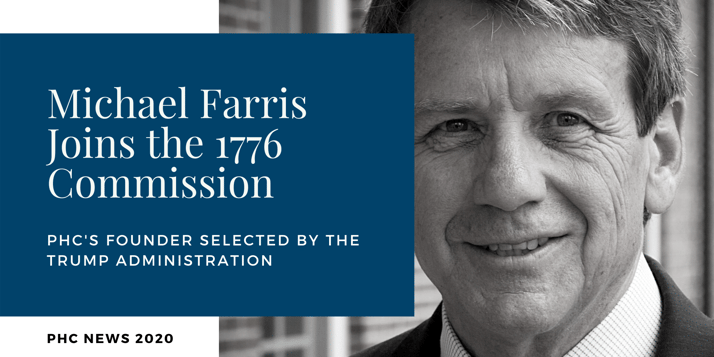 President Donald Trump announced on Dec. 18 that Patrick Henry College's Chancellor Michael Farris is on the list of intended appointees to the new Members of the President's Advisory 1776 Commission. Farris and seventeen other conservatives, including President of Hillsdale College Larry P. Arnn, will serve two terms on the Commission to advance "patriotic education."
The Commission was created to counteract the trends of critical race theory and the 1619 Project created by the New York Times Magazine which "aims to reframe the country's history by placing the consequences of slavery and the contributions of black Americans at the very center of [the United States'] national narrative." Trump believes the Project's emphasis on slavery and race in American history is founded on poor scholarship that vilifies America's founding and turns students against their country.
"This radicalized view of American history lacks perspective, obscures virtues, twists motives, ignores or distorts facts, and magnifies flaws," the executive order reads, "Resulting in the truth being concealed and history disfigured. Failing to identify, challenge, and correct this distorted perspective could fray and ultimately erase the bonds that knit our country and culture together."
An integral element of Patrick Henry College's education philosophy is fidelity to the spirit of the American founding. Patrick Henry College students are taught a profound appreciation for our country and the liberty it provides in their history classes, Constitutional law classes, and government courses. As Chancellor of Patrick Henry College and CEO of Alliance Defending Freedom, Farris' appointment to such a task if fitting for the values he strives to support.
The future of the Commission under a Biden Administration is uncertain. Biden is intent to make changes to America's education system, saying, "We have to make this at least an era of action to reverse systemic racism with long overdue and concrete change."
To read more about Farris' work to defend American values, follow the link below: