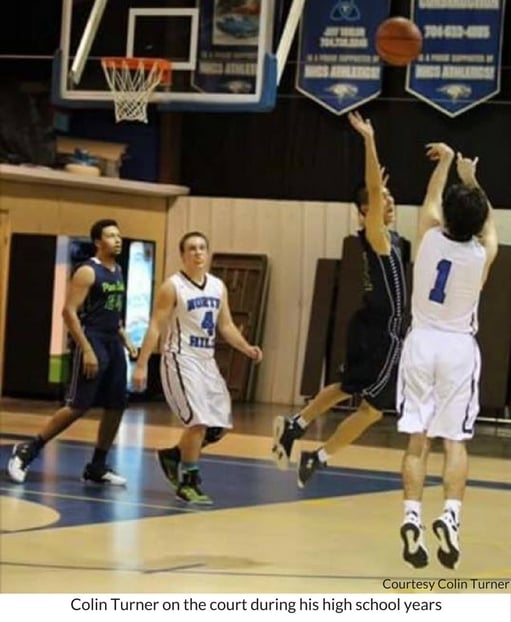 In the gymnasium of North Hills Christian School hangs a blue and yellow banner that displays the years the school has won the West Piedmont 3A Conference Championship.
As of August 2014, the most recent win on the banner dated 1998. When Colin Turner toured North Hills his sophomore year of high school, he told his father, James, that if he attended the school in Salisbury, North Carolina, he would win a conference championship and put numbers on the banner.
For a star point guard, however, Colin barely qualifies as short at 5 feet 6 inches tall. Top college prospects are usually at least 6 feet tall with long arms.
But what Colin lacks in stature, he attempts to compensate for with hours of hard work in the gym refining his shooting motion and ball-handling skills. He did not always possess the work ethic that has allowed him to succeed. Through his experience on the court, he learned the value of hard work, and is one of the strongest Sentinels on the men's basketball team.
Colin started playing basketball when he was 4 years old on a recreational league team but did not start to stand out on the court until his middle school years.
He began his high school basketball career as a point guard at Northwest Cabarrus High School in Concord, North Carolina. Other schools in the South Piedmont 3A Conference possessed National Collegiate Athletic Association (NCAA) Division I talent such as Matt Morgan and Connor Burchfield.
"If you started in that conference, you could have your pick of schools," Colin said.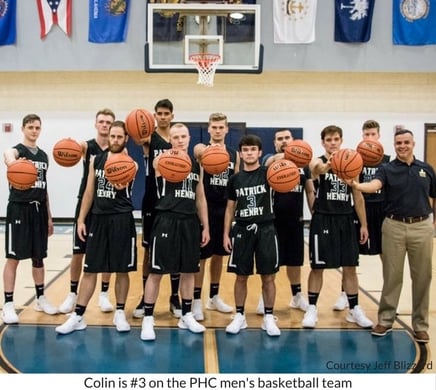 Colin made the varsity basketball team his freshman and sophomore year but hardly played. Regardless, NCAA Division II colleges were interested in having him join their basketball program.
"My sophomore year I remember our coach told me that he couldn't understand why colleges would want me to play for them," Colin said. "He said I didn't work hard enough and wouldn't succeed at the collegiate level."
His coach's comments caused Colin to leave Northwest Cabarrus the following year, but not without motivating him to work harder on the court.
During his sophomore year, Colin started training with Codi Miller-McIntyre, the starting point guard at Wake Forest University, a Division I school in North Carolina. Miller-McIntyre taught Colin how to be a more consistent shooter and improve his ball-handling skills.
"I worked in the gym for hours taking hundreds of shots a day to get better because I wanted to play college basketball," Colin said. "When I turned into a good 3-point shooter, it all clicked."
Colin led the school to the National Christian Schools Athletic Association championship game, where he scored 26 points against Cheswick Christian Academy in a 55-50 victory. His senior year, Colin shared point guard duties while averaging 14 points per game and leading the school to a second-place finish in the conference.
Colin's change of heart affected him beyond the hardwood court. His GPA his first two years of high school was 2.3, just above the minimum GPA required for athletic eligibility. When he graduated from North Hills, he had raised his GPA to a 3.1.
"Working harder in basketball gave me the motivation to work harder in school," he said. "It was nice to see my hard work pay off and realize that I had the potential to do something other than sports."
By the time Colin graduated from North Hills, he had received offers to play basketball at three different NCAA Division II colleges, but he decided to decline their offers and attend Christendom College.
"My grandmother was Roman Catholic, and I remember always going to mass with her," Colin said. "She died during my junior year and I felt like going to Christendom was the best way to honor her memory."
Less than two weeks after starting at Christendom, Colin sought to transfer to another college.
"I found out that how I chose Christendom wasn't the best way to pick a school," he said. Eventually, he decided to attend PHC instead and enrolled for the spring 2017 semester.
That season, Turner became the starting point guard for the Sentinels, averaged 23 points per game, and was the ninth leading scorer in the United States Collegiate Athletic Association.
"After attending PHC the past two semesters, I've seen how the school has helped grow my faith and further my education," Colin said. "Looking back now, I can see it was the perfect fit."
----------------
Reporting courtesy of PHC's The Herald.