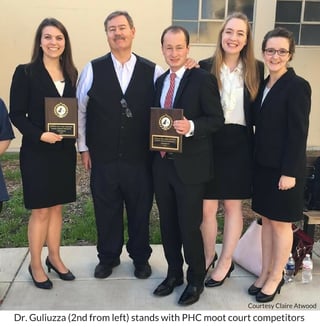 Patrick Henry College's moot court teams finished a phenomenal semester by winning four out of five tournaments attended, with five second-place finishes as well.

The following PHC teams will advance to nationals at the University of North Texas-Dallas College of Law:

Dr. Frank Guliuzza, Dean of Academic Affairs and moot court coach, called this season one of the best the school has had in the last few years.
"The system we put in place just seems to work," he said. "There's some point every year where the competitors get invested. And when they do that, it's hard to stop that momentum."
That momentum certainly kicked in as the teams went to their five tournaments. The first weekend of tournaments sent teams to Lynchburg, Virginia, and Orlando, Florida. PHC enjoyed its home state advantage—by finals, it was clear PHC would be the winner, as both top teams were from the college! Freshmen Keely Wright and Sarah Brown earned first and freshmen Samuel Bock and Samuel Zinkgraf took second in the final round.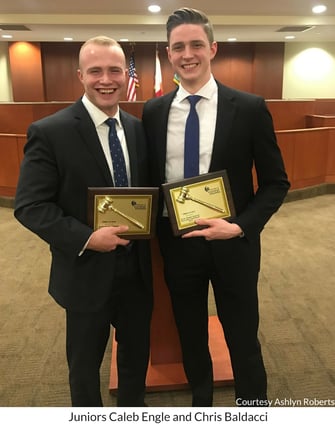 While PHC was locking up the tournament in Virginia, juniors Chris Baldacci and Caleb Engle won their tournament in Florida.
"I think a lot of the team was nervous going into regionals this year because a bunch of us are now upperclassmen and had very busy semesters, but we still performed at a really high level," Chris said. "I think it is a testament to the caliber of our coaching and the cumulative preparation we get at PHC that even under time constraints nearly all of our teams were stellar."
In the following weeks, several PHC teams competed at Regent University in Virginia. Junior Cooper Millhouse and sophomore Kyle Zimenick placed second in the tournament. And the icing on top of the cake? Millhouse and Ziemnick were awarded first-place and second-place speaker, respectively.
Several teams also traveled to Fitchburg, Massachusetts, where junior Clare Downing and senior Shane Roberts took the victory and juniors Nikki Cordaro and Andrew Shelton were first runners-up.
Two teams flew to Fresno, California, where they faced each other in the finals. Seniors William Bock and Claire Atwood took first, and senior Brenna Bakke and junior Marina Barnes took second.
"Even with just four of us, we were the top two seeds going into outrounds," Atwood said. "We had four of the top five speakers."
Seniors Claire, William, and Brenna have competed in moot court since their freshman year. William has won each qualifier in which he competed every year, three of which when partnered with Claire.
"I couldn't have done it without fantastic moot court partners like Jacob Van Ness and Claire Atwood," William said. "I couldn't have done it without world class coaching from Dr. Farris and Dr. Guliuzza. Claire and I were blessed to come out with the win and are just glad we have been able to represent Patrick Henry College well over these past few years."
----------------
Reporting courtesy of PHC's The Herald.