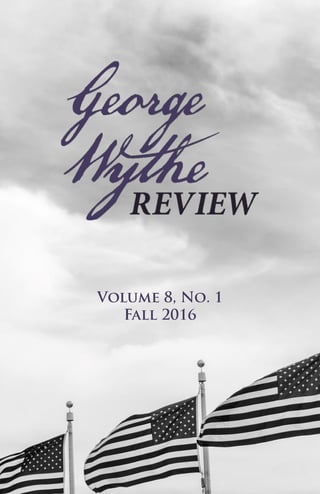 This is Christian McGuire's first year working as editor-in-chief of the George Wythe Review, and he came in with a big vision. "My vision for the journal was to bring it more to the level of other public policy journals in our field," McGuire said. This coming Monday, the editorial staff is releasing the new, revised George Wythe Review, and is hosting a symposium.
"In practical terms, what we've seen in terms of changes is almost doubling the number of papers we have, doubling the page count of the journal, and changing the cover to gage more interest," said Keith Zimmerman, the publication editor.
McGuire also wants to explore the possibility of having the projects officially peer reviewed. "The importance to peer review is that it gives the individual papers and the journal credibility. It makes the work a referenceable document," Zimmerman said.
While introducing a bigger vision was great for the journal, it was challenging for the entirely new staff. Junior Shane Roberts serves as the associate editor and William Bock, also a junior, is the research editor. Many of the staff members spent late nights in the journalism lab, and devoted endless hours to editing the papers.
The editors plan to release the official publication of the George Wythe Review before the symposium. At the event, several of the researchers will present their projects.
Lanson Hoopai, a 2016 alumnus, did an analysis pierce on supplemental nutrition assistance programs. His conclusions differ from the usual conservative view. Ashlyn Olson, also a 2016 alumna, is presenting her project on regulating drone usage and senior Maggie McKneely is presenting on the effectiveness of housing first homeless programs.
"The symposium will have controversial presentations. Some of the writers are presenting ideas that are not often held by mainstream conservatives," McGuire and Zimmerman said.
The editorial staff of the George Wythe Review encourages students to attend the symposium this Monday, Nov. 21, at 7:30 p.m. in the BHC boardroom to witness the class of ideas and engage in important public policy topics.
--------------------------------------------------------------------------------
Reporting Courtesy of PHC's The Herald.