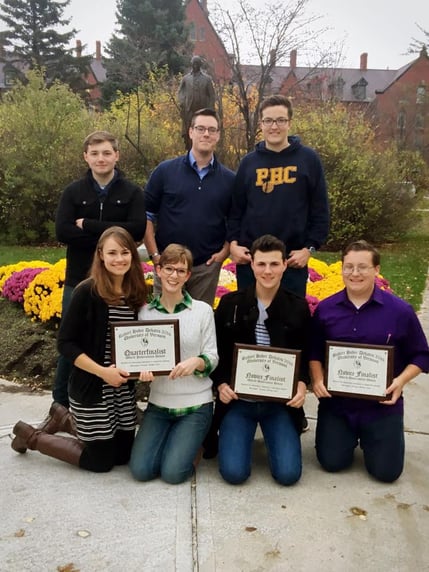 The PHC British Parliamentary (BP) debate team recently finished a strong semester of competition representing the school.
At Hobart and William Smith College, Jacob Beaver and Clare Downing won the novice title, at the University of Vermont, Johanna Christophel and Blaire Bayliss broke into quarterfinals and Jacob Beaver and Blake Toman placed second in the novice tournament, and at the University of Rochester Debate Tournament, Jacob Beaver and Becca Samelson, along with Chris Baldacci and Thaddeus Tague, advanced to the quarterfinals.
"We spent a whole Saturday doing basic BP coaching so they would be able to jump into their first tournament and not be nervous and not know what to expect," assistant coach Bayliss said.
USUDA, the BP League, is very politically and culturally liberal, often taking a one-sided stance on issues. This gives PHC students a chance to share their Christian worldview with secular thinkers, and also exposes them to ideas that are not heard often on campus. "If you talked to a lot of the BP team I think there's definitely more than one or two people that have had their opinions shifted on certain issues [because] of the ability to actually discuss how you feel," Downing said.
Many BP debaters claim that it teaches one how to think classically, as this style of debate is focused on coming in contact with new viewpoints. "It's very conversational, it's very casual, but it's very much based on speaking well, reasoning well, saying things well," said assistant coach Daniel Thetford.
A standard BP debate is set up with two sets of opposing teams. A resolution, completely unknown to the competitors until the round starts, is given to all teams who then have 15 minutes to craft an argument supporting or opposing the proposal. This time crunch forces debates to focus only on big-picture issues, instead of getting into the weeds over minute details.
--------------------------------------------------------------------------------
Reporting courtesy of PHC's The Herald.