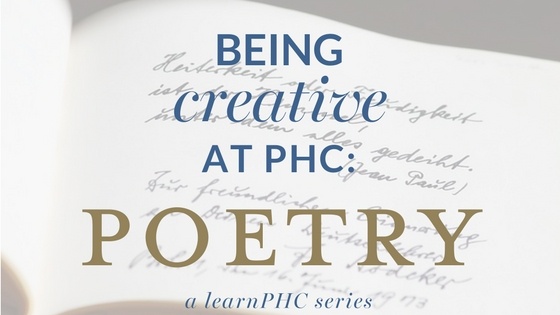 Many PHCers express themselves through writing poems. Graham Jackson, Marina Barnes, Jared Midwood, and Mikey Pozo understand the world around them by writing about it. Read on to learn about how poetry has provided a fruitful creative outlet for these four students.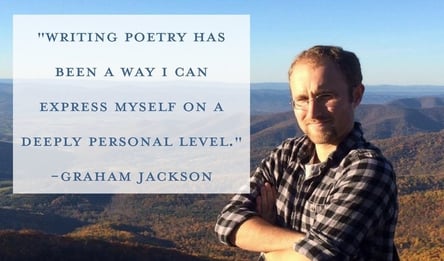 Class of 2017 graduate Graham Jackson, a literature major, relieved stress at school through poetry and theater. Working with classmates on a play balanced the time he spent alone writing.
"Writing poetry has been a way I can express myself on a deeply personal level, process internal wrestling, and set my mind at rest during particularly busy or difficult times throughout the semester," Graham said.
He completed a poetry directed research study the summer before his senior year. Graham studied under Angela Alaimo O'Donnell, author of seven poetry books and a professor of creative writing at Fordham University.
He wrote a sonnet sequence of 14 poems with a unifying theme on one of his favorite subjects: his home, New England.
"Being creative is super important to me because it involves utilizing one of the most mysterious aspects of ourselves and our faculties: the imagination," Graham said.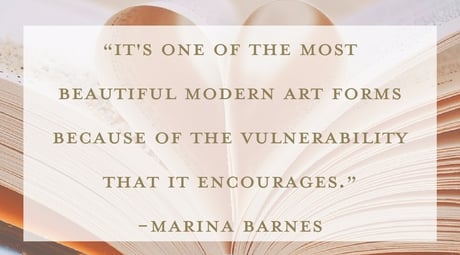 Sophomore Marina Barnes writes slam poetry in her rare spare time. She appreciates that slam poetry has no set form or structure; instead, it's based on what looks or sounds best.
Marina started writing slam poetry at age 14 after her younger brother died unexpectedly.
"It's one of the most beautiful modern art forms because of the vulnerability that it encourages," she said.
One of Marina's favorite poems she has written is about mornings. She has never performed or published a poem but wants to work up the nerve to share her work in the future.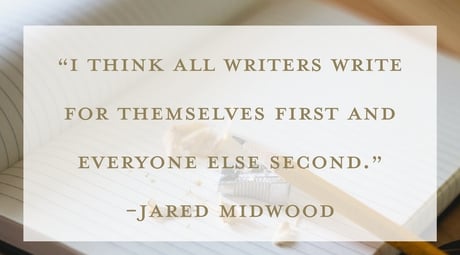 Senior Jared Midwood has published an entire book of free verse poetry, Summer by the Sound: A Collection of Poems and Short Stories.
He first forayed into poetry in high school when learning about the biblical city of Sidon.
"The poem explored the themes of adventure and self sacrifice and was generally pretty bad," he said. "But I caught the bug, and I didn't stop writing."
He wrote almost every night in high school, and whenever he could find the time in college. Soon, Jared found himself with enough material for a book with over 100 pages. He published "Summer on the Sound" on Amazon as an eBook in December 2015.
Poems that inspire him include The Waste Land by T.S. Eliot, Howl by Allen Ginsberg, and Dover Beach by Matthew Arnold.
"They portray a really interesting juxtaposition between complete human misery and darkness and hope and light," Jared said.
His favorite original piece is not a poem but a short story inspired by a recurring dream. "The Revolution by Night" centers on a girl hiding during a war. Her only escape from the besieged city is over a burning bridge.
"I don't try to communicate any grand universal truths except what has impacted me on a super personal level," Jared said. "I think all writers write for themselves first and everyone else second."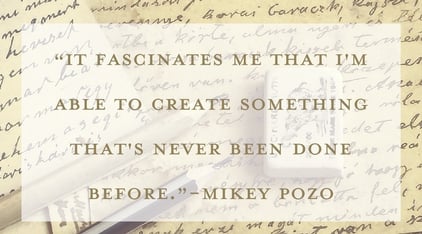 Mikey Pozo started writing poetry in middle school.
"I wanted to write my emotions on paper, especially about hard times going on in my family," he said.
Now a college sophomore, Mikey posts and performs original songs. He wants to branch out from the subjects he normally focuses on, which are love and faith.
"I write music and poetry because that's how I'm able to get my message across to people," Mikey said. "It fascinates me that I'm able to create something that's never been done before."
----------------
We hope these students' stories inspire you to pick up the pen and capture the world around you! Check out other creative outlets at PHC, including Music and Playwriting & Acting.