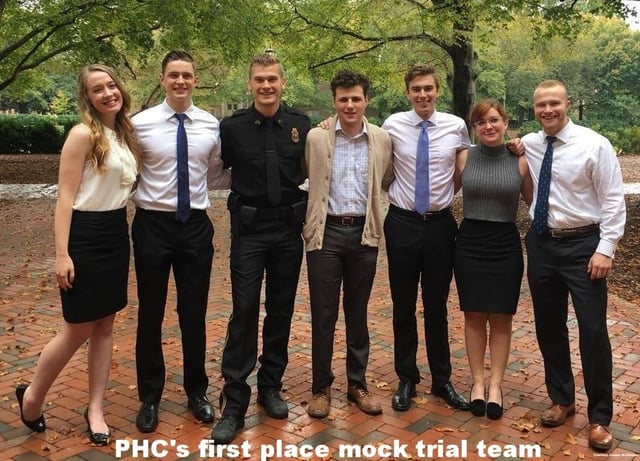 Patrick Henry College took first place at the Colonial Classic Mock Trial Tournament at the College of William & Mary in Virginia the weekend of October 28.
Seniors Shane Roberts and Brenna Bakke led their undefeated team to victory, beating out teams like American University and the University of South Carolina. Another PHC team, led by senior David Slaughter and junior Nathan Jacob, placed fourth out of 23 teams.
Not only did team leader Brenna enjoy a first place win with her mock trial team, but she also won an individual witness award for her performance.
"Every mock trial win is special because you can't do it on your own," she said. "All members of your team have to be on their game and work well together to do well. It was encouraging to win the Colonial Classic because we got to see that all our hard work and team efforts paid off, even though it's still early in the season."
Junior Olivia Bowers is an attorney on the team that took fourth place.
"The highlight was definitely our round against Howard University," she said. "It was probably our best round, and Howard was fantastic. It was intense, but not in a negative way."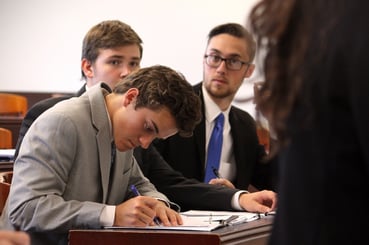 Bowers added that the fourth place performance shows that her team has improved from last year.
"It's pretty cool how much we have improved and grown and it's exciting to think about where we might be in the spring," she said.
Senior Shane, who led the first place team, explained that the win would have been impossible without the ideas, work ethic, and skills the coaches and his teammates brought to the table.
"I would also be remiss not to mention the inestimable value Dr. Guliuzza brings to the Mock Trial program," he added. "It's easy to take for granted the fact that such an accomplished person gives up four days of his time to invest in a couple of undergrads arguing over a fictitious case. Sure, he could make more money elsewhere, garner more recognition elsewhere, but he consistently chooses to stay up till midnight with a bunch of college kids teaching them what it takes to get from good to great."
The mock trial teams have high hopes for the rest of the season and will treasure the memories from this exciting tournament.
"There were lots of mini-highlights of the trip: a fantastic closing, a great cross-examination, or a really convincing witness," Brenna said. "I think one of the biggest highlights was right after we finished our last trial of the tournament and gathered outside the room to wait for judge feedback. We laughed and hugged and congratulated each other for especially good individual performances."
--------------------------------------------------------------------------------
Reporting courtesy of PHC's The Herald.