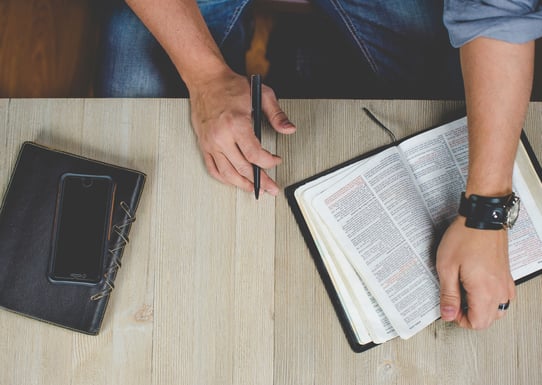 Learning about the historical context behind a Scripture passage from a history professor? That's a weekly occurrence at Patrick Henry College.
History professor Dr. Robert Spinney has guided PHC students through a portion of the Bible each semester since 2010.
"I'm encouraged when I see young men enthusiastic about the Lord Jesus Christ," Dr. Spinney said. "I find that to be encouraging to me spiritually."
He's taught history at PHC since 2004, but it wasn't until 2010 that a student asked him to lead a Bible study.
This year, the group meets on campus every Tuesday night to learn more about God through the book of Romans.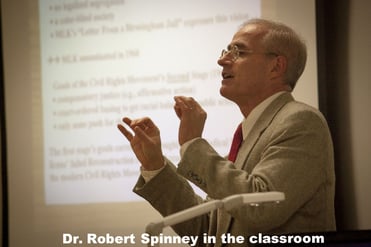 "Dr. Spinney does a really good job of going into the historical context of what audience Paul was writing to and what the situation this audience was experiencing," said junior Andrew Shelton. It's his second year participating in the Bible study.
Each year, Dr. Spinney covers a particular book of the Bible. This year, he is teaching through the book of Romans, which holds a special significance to him.
"Romans is a systematic study of foundational Bible doctrines. And I like to be able to teach doctrine in such a way that people see the immediate application," Dr. Spinney said. "It's always applicable. I don't know of any dry, dusty old doctrines."
Andrew has learned a lot from the study of Romans, including about how God deals with human sin.
"One thing we've been talking about is the importance of dealing with sin and the consequences that sin has in our lives," Andrew said. "It's easy to underestimate that and to try to downplay it because that's our nature."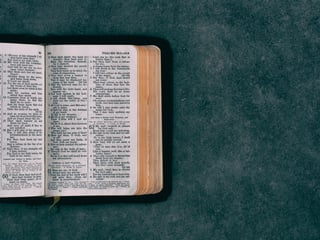 To Dr. Spinney, the most important thing for students is not that they attend his study or any official meeting, but that they take the time to delve into the Bible on their own.
"Jump in and do it, and the Holy Spirit will help you improve your method over time," Dr. Spinney said.
Being able to study the Bible side-by-side with a professor at your college really sets PHC apart, Andrew said.
"It's a really amazing opportunity to be able to interact with a professor who's so knowledgeable yet also a strong mature believer in a small group setting," he said.
--------------------------------------------------------------------------------
Reporting courtesy of PHC's The Herald.