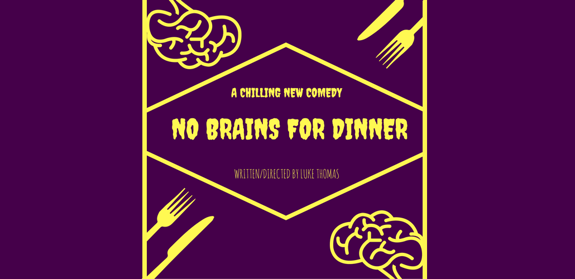 No Brains for Dinner
Directed and produced by senior Luke Thomas
March 23-25 in PHC's Town Hall
Senior Luke Thomas will present No Brains for Dinner, an Edwardian-era, zombie-themed play he wrote and will produce, from Thursday, March 23, to Saturday, March 25.
Thomas has worked on the play since his junior year. The idea came from a late-night conversation with his close friend Philip. While the script was originally supposed to involve both friends, it became clear a few weeks into the process that this was going to be Thomas's project.
Although the college's theater company, Eden Troupe, was unable to produce No Brains for Dinner, Thomas wanted to fulfill his dream and chose to do the production on his own. Launching a Kickstarter campaign, he was able to completely fund the production with the help from fellow students, the local community, and friends. He received half his funding after the first week.
The play will center around the story of a young, aspiring aristocrat, Oscar Norton, played by senior Andrew Kelly. Kelly's character deals with the trouble of having a brother with a "condition" as he attempts to enter into society.