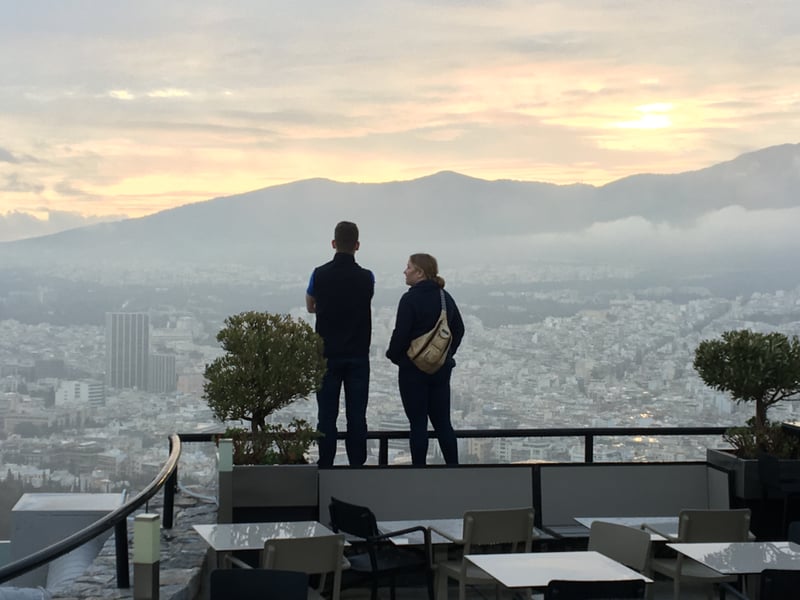 Former Patrick Henry College student Hailey Kilgo relocated to Athens, Greece this summer, teaching English to Middle Eastern refugees.
Hailey spent much of her young adult life traveling – backpacking around the world, nannying in Australia, and studying in Boston before finally arriving at PHC in the fall of 2016. Her passion for storytelling led her to pursue a degree in journalism. In March of 2017, however, Hailey packed her bags along with a handful of other PHC students and flew to a suburb of Athens called Kypseli.
Their goal was to assist local refugees over the spring break; it was only going to be a temporary visit.
"[Kypseli is] flooded with all sorts of refugees," Hailey said, "Afghani, Pakistani, Syrian, Iraqi, Irani—you can pick and we're here." The team, lead by PHC President Jack Haye, worked alongside the International Sports Federation (ISF), based in Atlanta, Georgia. Hailey began teaching English classes to refugee women of all ages.

Senior Hannah Waters, who attended another PHC-sponsored spring break trip with Dr. Doug Favelo, unexpectedly ran into Hailey one day while exploring Athens. Hailey asked her to sit in on an English class.

"We sat in a classroom…teaching Afghani and Syrian refugee women English through Bible stories," Hannah remembered.
She saw a phrase on the white board that apparently had never been erased: Good morning, Jesus loves you.
"They copied it onto their papers each morning," Hannah said.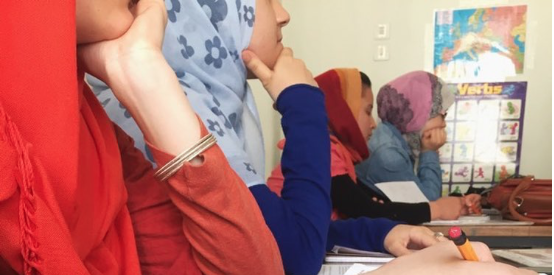 Before the team returned to PHC, ISF offered Hailey a full-time job in Athens.

"I am employed by ISF," she said. "So when teams come – and PHC teams come – I will coordinate that trip and help plan it and get people here and make sure they have things to eat and places to stay and the general experience."

Hailey was uncertain whether or not she should return for the following fall semester after her summer in Kypseli. After getting settled, she announced that she would not be coming back to the states but would be living and teaching in Kypseli indefinitely.
Between coordinating teams, Hailey primarily teaches English. She works in a community center run by the organization Street Lights.

"I teach English five days a week, three classes a day to about 20 Afghani refugees from ages four to 35," Hailey said. She also volunteers at another location in Athens, teaching two more classes a week.

All of Hailey's students have arrived in Kypseli after fleeing from their homes across the Middle East. All have diverse social and economic backgrounds, unique stories, and hopes for the future.
"What Hailey saw and experienced during that trip touched her deeply. She knew that she had found her calling – to work with refugee women," President Haye commented, "Through English language classes and skills training she is helping many of these women build support networks that didn't exist before."
The volunteer position arose unexpectedly. Her boss, Hailey explained, was sitting in the Street Lights community center square one evening when several children approached him and asked if Hailey would teach them English. He said yes, apparently without asking her. The next day, 51 rambunctious kids arrived, ready to learn.

"It was chaos," she said. "By the time they left, tables were overturned, chairs were upside down, pencils were broken, it looked like the scene of a crime."

But Hailey claims she would not rather be anywhere else in the world.

"Her days are long and hectic, but I've never seen her happier in the ten years that I have known her!" President Haye said.

Hannah recalled her time helping Hailey teach: "We just sat with them repeating the most basic words in English. Some conveyed only with their eyes, others with fully formed sentences. Hailey whispered their stories to me that she had learned in the previous days. She remembered every heartbreaking detail and every smile. And I watched how much these women love her and how easily she related to them."
--------------------