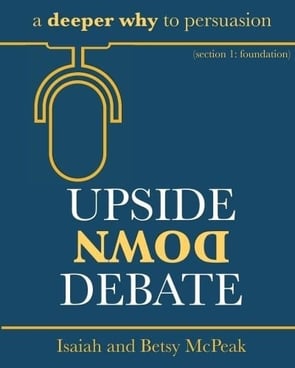 Culture change. That's what PHC graduates are coached is their mission while at school. Class of 2008 graduate Isaiah McPeak took that to heart. He has just published a book five years in the making, called Upside Down Debate.
Why "upside down"?
"We named it Upside Down Debate," says Isaiah, "because our culture thinks of debate backwards: as a means to domination and argumentativeness. That's backwards. Learn debate to sacrifice yourself well, solve conflict, – put audiences first, be deeper, give more, demand more of yourself." Isaiah calls this light-side rhetoric, which he first learned right here at Patrick Henry College, under the mentorship of past PHC rhetoric professors Dr. Bates and Dr. Tallmon.
In the introduction, Isaiah identifies several rhetoric principles, which he says are drawn from Jesus' Kingdom of God principles:
"valuing listening over speaking

relish creatively analyzing an argument, while never advocating a position with which you do not agree (most people think you must make this compromise to debate; we do not)

loving the audience more than self

hoping for the best result, even if your opponent is the one who benefits

cutting no corners, going through the narrow gate of research, discipline, and intellectual honesty

turning conflict into healing

not proving "my side," but connecting audiences with higher ideals and sharing the experience

choosing to view listeners as ends, rather than means to your own ends"
That's not what you expect to hear from a debate coach! But the PHC alum backs it up with a rhetoric-based approach to learning the techniques of debate: six classes of macro-refutation, six types of micro-refutation, the mechanics of persuasion from shared assumptions, and how to master various formats.
Besides the culture change, what really makes this book unique is its foundation in examples outside of debate. Classical thinkers believed rhetoric was a "subjectless subject," but in the USA many debate leagues have let debate take on a life of its own – debaters try to talk as rapidly as possible in forums where only debate specialists are even allowed to judge. Isaiah teaches debate with real life examples from business meetings, professional presentations, hostile conversations, personal interactions, politics, and academia, to teach debate in words that you can use every day.

"If you can't transfer what you learned in debaterland to real life, what's the point?"
Having presented to Fortune 500 executives, led sales efforts to win millions in business, coached authors and CEOs, designed venture capital presentations, and consulted over 50 businesses, Isaiah believes debate is what helped prepare him for these activities. "It's not every day that someone younger than 30 is leading entire company executive offsites on behalf of the CEO," says Isaiah, who did exactly that at several businesses in the Washington, DC area.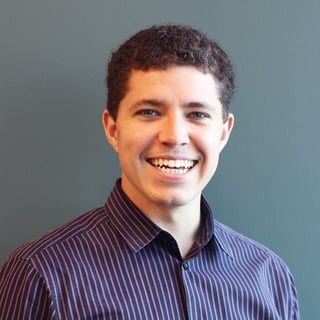 Recruited by Dr. Michael Farris after placing 3rd in the National Christian Forensics and Communications Association's 2004 team policy national championship, Isaiah would become one of PHC's most decorated debaters. He brought home top 5 national championship trophies in moot court and team policy debate, and won over a dozen first place awards for speaking or debating at the collegiate level in five formats. Isaiah also coached the Patrick Henry debate team – a squad of 60 under his purview – winning dozens of tournaments, including LD Policy debate at the 2009 "Christian Nationals" championship. He also directed 5 of the PHC TeenCamp debate camps, has hired over 25 PHC students or graduates, and has recruited at least 50.
Now a tech entrepreneur by day, Isaiah lives with his wife Amy (former PHC student) in Austin, TX. Upside Down Debate was co-authored by Betsy McPeak, also a decorated debate coach and long-time friend of PHC, tabbing over 10 tournaments hosted at PHC in years past. While Isaiah's full-time job is as CEO of statUP.com, he still tries to coach as many debaters as he can each summer through Ethos Debate.
If you're interested in being persuasive in today's world, check out Upside Down Debate– it's written not just for students, but for educators and professionals too.
Article reposted with permission from Isaiah McPeak