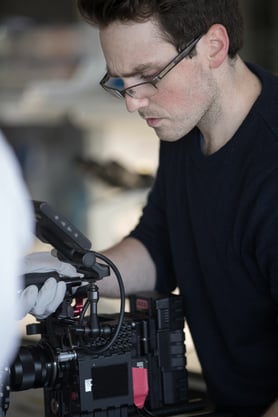 If you had told Ian Reid when he was a sophomore that after graduation he would be an executive producer for a music video of his favorite singers, Owl City, as well as direct a short film about a young North Korea defector, he probably would not have believed you.
But those are just two of the exciting projects that Ian (Journalism, 2012) has worked on.
He was executive producer for the music video for "Not All Heroes Wear Capes," sung by Adam Young, a.k.a. Owl City, and director of Go to Where the Light Is, a video about Yeonmi Park, a young girl who escaped from North Korea.
"It's surreal and exciting to work with an artist at one time you were such a big fan of," Ian said of working with Owl City. He never got to meet the star but did exchange countless emails with him.
An upperclassman friend introduced sophomore Ian to Owl City's number one hit "Fireflies" back in 2010.
"I played 'Fireflies' on repeat at least 300 times in my first two weeks after hearing it," he joked.
Ian agreed to executive produce the 2017 video and completed it in a span of 10 days, from June 5 to 15. "Short deadlines are just the way the business is," he said. Owl City's video premiered on June 16 as a Father's Day tribute to his dad.
As executive producer, Ian dealt with the nitty gritties of pre-production like insurance and contracts as well as the final touches on the video.
Ian was also excited to learn that a hand-drawn animated short film he directed, Go To Where The Light Is: Escaping North Korea, had premiered at a SXSW event called Asian American Spotlight. The film is also an official selection at Anthem Film Festival, where it will compete with other short documentaries in July.
The film will launch on YouTube and Learn Liberty's site in late June.
Ian's clients have included Universal Music Group, the Intercollegiate Studies Institute, and Heritage Foundation. He worked on the 2016 film The Birth of a Nation.
Ian is one of three directors at video production company Distant Moon Media. The Institute for Humane Studies (IHS) at George Mason University approached Distant Moon the summer of 2016 to make a video about Park's life.
"Go To Where The Light Is tells the story of Yeonmi Park, a North Korean refugee who escaped to China and was caught up in sex trafficking," said Ian, a Class of 2012 journalism major.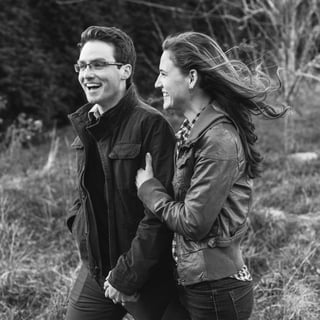 IHS offshoot Learn Liberty, a self-described "resource for exploring the ideas of a free society," is releasing the video.
"We really liked Ian's style," IHS video producer Josh Oldham said. "Distant Moon is one of the most high-caliber post-production companies that produce animated videos I've worked with."
The production team considered making the film live action or blending live action and animation.
"Certain aspects of the story were softened with animation rather than real people, especially the references to sex trafficking," Ian said.
Yeonmi, 23, authored a book about her experiences, In Order to Live: A North Korean Girl's Journey to Freedom. She was a sex slave for almost two years before escaping with her mother to Mongolia's Gobi Desert.
"They were found by Mongolian soldiers who threatened to deport them back to North Korea," Ian said. "Yeonmi and her mom threatened to kill themselves if they did this, so the army saw that they were serious and let them go to South Korea. Now Yeonmi shares her story globally."
Yeonmi has spoken at TED conferences and been interviewed by The Guardian. Ian used Yeonmi's autobiography as well as a video interview of her provided by IHS to create Go To Where The Light Is. The video proved especially helpful when he began writing the visual script in June 2016.
"Using that as our actual narration, we put together her life story as told through her own words," he said. "Once we narrowed down what visuals we wanted, lead animator Thomas Teraoka and his team spent seven months on the animation… For every scene, I worked one-on-one with the animator to bring the characters' movements and expressions to life."
Ian and his team finished the project in December 2016.
He was surprised when his contact at IHS mentioned in an email after the fact that he had delayed the online launch of Go To Where The Light Is so it could premiere at SXSW.
"My main hope is that people will get a glimpse of what it is like to live in oppressive regimes from watching the film," Ian said. "I hope they'll appreciate protecting the rights we have in the United States and in the western world."
--------------------------------------------------------------------------------