Seventeen-year-old Joni Eareckson Tada had no idea that within moments of diving into the shallow Chesapeake Bay she would be instantly paralyzed.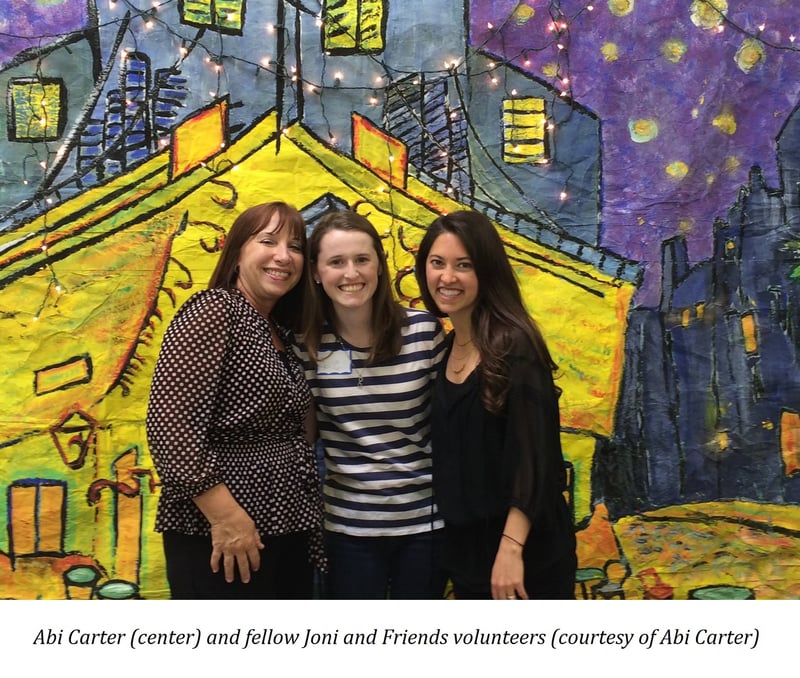 If her sister had not seen Eareckson's body floating in the water, she would have perished. To many people, Joni Eareckson Tada, who married in 1982, is the protagonist of a miracle story, the paralyzed victim of a tragic diving incident who now paints beautiful works of art with a paintbrush poised between her lips, but that is only half of her story.
Freshman Abi Carter knows Tada as a vivacious woman who encourages disabled people around the world through her ministry and whips around corners in her wheelchair, greeting volunteers like Carter with a hymn of praise every morning.
In 11th grade, Carter longed for a way to bridge her growing desire to volunteer with her love for public speaking. She reconnected with an old childhood haunt, the Joni and Friends ministry headquarters in Agoura Hills, California, and immediately knew this opportunity was what she had been searching for. Founded by Tada, the international nonprofit is an umbrella organization for many charities, the two largest branches being Wheels for the World, which delivers wheelchairs around the world to those who have disabilities, and Family Retreats, week-long retreats for families with children or adults who have disabilities. Carter applied to be a tour guide at the Joni and Friends headquarters in California, where Tada herself works, and began immersing herself in preparation for the position, shadowing other docents and reading more about Tada's story.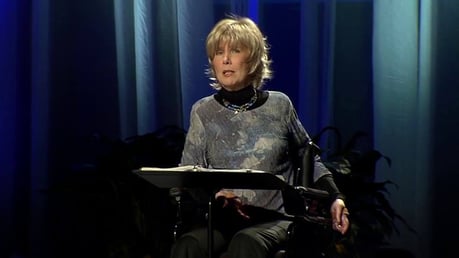 "It's just such an amazing organization," Carter said. "It taught me so much about service… Every time I walk into the Joni and Friends headquarters I am filled with the presence of God because I know that everyone in that building is filled with a love for Christ and a heart for serving those who have disabilities. People with disabilities in Third World countries are usually seen as cursed and are cast out from their society. However, it is the goal of Joni and Friends to lift up and serve those people, following the command of Jesus to bring in the poor the lame and the blind."
She was ecstatic when she led her "first flight tour" and passed. During her time at Joni and Friends, Carter witnessed amazing acts of servitude. One volunteer devotes hours of her time every week to the ministry, even though she struggles with her own limb-related disabilities.
"We also had a woman who is blind start leading tours," Carter said. "It was the most encouraging thing to see. If I had a disability, I don't know if I could be happy enough to get up and serve other people like that."
Tada is one of Carter's greatest role models.
"She is one of the most joyful people I have ever met," Carter said. "It's so encouraging to see her come into the office singing hymns and encouraging everyone else every morning."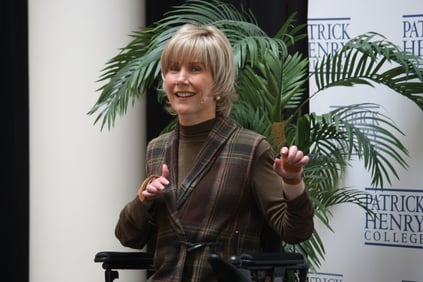 Carter witnessed visitors from around the world leave the Joni and Friends headquarters sobbing after talking to Tada about the work that she does. A picture of a paralyzed man from Uganda hangs on Tada's office at the headquarters. The man sits in front of his home, a tin shelter. His friends had found him days after his fall out of a tree left him paralyzed. When the Joni and Friends Wheels for the World team found the man completely helpless, they asked to take his picture before equipping him with a wheelchair. The Ugandan asked them politely to wait a moment as he struggled for five minutes to adjust his ragged shirt, which had slumped off his shoulder. Tada told Carter that this picture shows that "every person has an innate sense of human dignity given to them by God."
Tada's road to recovery was not easy. She had to adjust her entire way of thinking. Feeling lost and unable to fulfill simple tasks of life, she struggled with a depression so overwhelming that she would have committed suicide if she could have. Initially, Tada pushed away God and hope. She did not see how her life would ever have meaning because she was paralyzed from the fourth vertebrae down and had no motor ability.
This perspective changed through time, prayer, support from Christian friends, and when one rehabilitation center encouraged her to try art therapy. At first, she felt silly holding a paintbrush in her mouth and stubbornly kept spitting it out.
"When she came into the [art therapy] room one day she saw a man learning to paint with a paintbrush in his mouth. He was paralyzed from the second cervical vertebrae down, so he was even more paralyzed than she was," Carter said. "She was very spitfire and energetic, so that made her want to try it."
Tada began perfecting an unconventional way of painting that would eventually inspire millions. Her faith in God was restored, and her life imbibed new meaning.
Tada's prolific career as an artist took off. She shipped her paintings to buyers all over the world and, with some encouragement wrote Joni: An Unforgettable Story, an autobiography that attracted media attention almost immediately after the Today Show picked it up.
The public responded to her inspirational narrative. Hundreds of letters began pouring in, and Tada's local community began helping her respond to them, forming the first iteration of Joni and Friends.
Over the past 35 years, the Joni and Friends ministry has blossomed into a ministry that serves across the globe.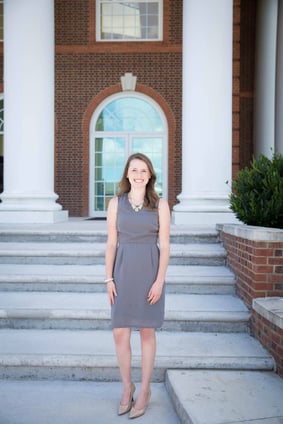 "People came from everywhere for tours," Carter said. "I once led group of people from New Zealand, and we went into the chapel inside of the building and they sang a hymn in their native language. There are people coming for tours from New England on the East Coast all the way up through California."
Carter still enjoys leading tours and volunteering for Joni and Friends today when she returns home during break.
Eventually, she wants to begin an effort at PHC to gather wheelchairs for Joni and Friends.
"In America, we view a wheelchair as something scary, symbolizing depression and immobility, but if you actually do have the need for a wheelchair, it is a symbol of life, strength, and mobility," Carter said.
--------------------------------------------------------------------------------
Courtesy of PHC's The Herald.