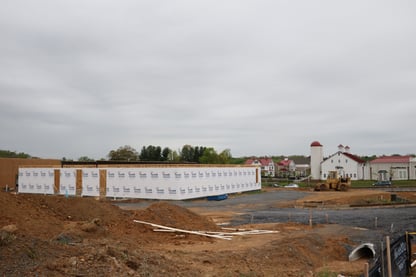 View of under-construction Catoctin Corner shops from the edge of PHC's campus (Credit: Evie Fordham)
Shops in new shopping center Catoctin Corner will likely begin opening in fall 2017, according to Purcellville Community Development Director Patrick Sullivan.
"Buildings are going up rapidly," he said.
Catoctin Corner is located in a lot adjacent to the Patrick Henry College campus. KLNB Retail, a northern Virginia-based commercial real estate service, will lease space to businesses including Dunkin' Donuts, Chipotle, Manhattan Pizza, Supercuts, Wink! Vision, Heartland Dental, a Shell gas station and convenience store.
Another gas station in the area may make prices more competitive.
Catoctin Corner will benefit Purcellville residents in many ways, said leasing agent Dallon Cheney.
"The amenities will be so convenient," he said. "If you don't like Starbucks, now there will be a Dunkin' Donuts drive-through. If you want Chipotle, you'll no longer have to drive to Leesburg."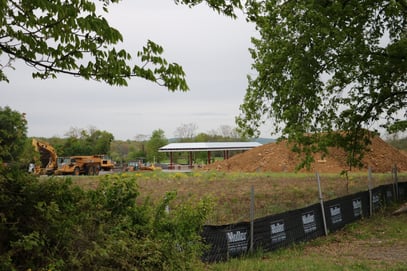 View of the under-construction gas station from the edge of PHC's campus (Credit: Evie Fordham)
Not all of the planned buildings have been leased out yet. Unclaimed spaces will include two roughly 6,000 square foot buildings that can be subdivided and a potential 10,000 square foot daycare facility.
That Catoctin Corner will include a daycare facility is not guaranteed, but the possibility is exciting to students who enjoy working in childcare. Patrick Henry College Sophomore Mary Katherine Collins has worked with children since middle school.
"I would love to have another potential job opportunity that is within walking distance of campus," she said. "It would benefit students without cars in a really positive way."
Senior Santos DeBarros is most excited for the arrival of a Chipotle.
"I think the shopping center will be nice to have and good for convenience's sake," he said.
Click here to read more about Catoctin Corner.
--------------------------------------------------------------------------------
Reporting courtesy of PHC's The Herald.