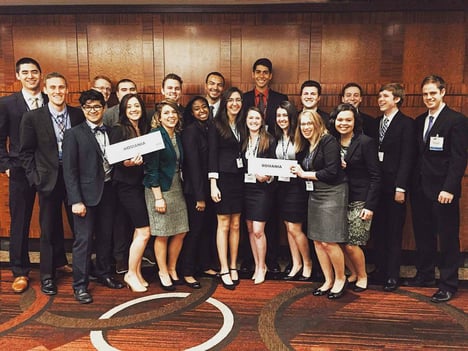 PHC's NMUN delegation (Courtesy of Julianne Owens)
PHC's National Model United Nations team traveled to New York City for its annual UN Simulation April 9 to 13 and returned with an Outstanding Delegation Award for the team and Position Paper Award for members Manus Churchill and Mikael Good.
PHC's NMUN team has received an Outstanding Delegation award for nine years in a row.
"An 'Outstanding Delegation' award is essentially the highest possible award and goes to roughly 20 percent of the teams," said NMUN club president Julianne Owens. "It means that your team had consistent participation, dedication to consensus-building, and exhibited leadership when possible as well as followed procedures correctly."
Owens, an International Politics & Policy major, has participated in NMUN for three years. PHC represented Romania at this year's simulation. A team's 20 delegates are divided in pairs and assigned to committees addressing various humanitarian, environmental, and economic issues.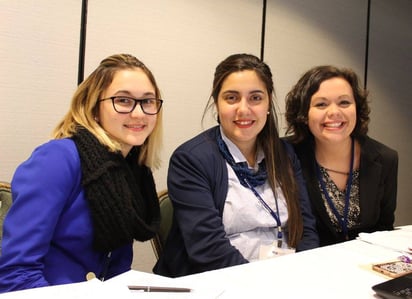 Owens, on right, works with delegates from other colleges (Courtesy of Julianne Owens)
"Each team's goal is to be the sponsor in as many resolutions as they can," Owens said. "That means that team members have done a portion of the writing of resolutions. It requires you to think on your feet and be good at coming up with solutions to problems. Networking is a big part of it, because some of the committees have over 100 people in them."
PHC's country assignment, Romania, was only represented in nine committees, so Owens and fellow PHC head delegate Clayton Millhouse served alongside model UN staff on the dais.
"What was unique about it was that Clayton and I weren't originally assigned to a committee, so we didn't leave a partner to be on the dais," Owens said. "I liked interacting with the Model UN staff."
Freshman Abi Carter enjoyed meeting students from countries like Germany and Egypt during her first NMUN trip.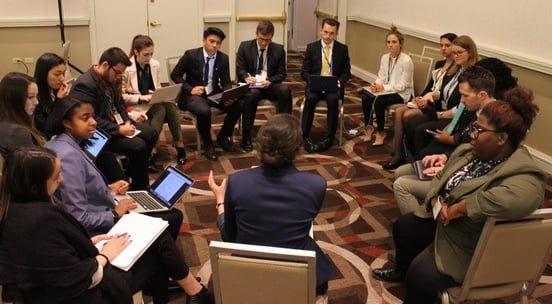 A NMUN committee at work (Photo courtesy of Morgan Conliffe)
"It really widened my world, and I understand more how to interact with people from around the world," she said. "One of my favorite parts was when I was working with a group of people. Someone brought out a bag of candy and passed some Snickers bars around, but the international students had never had American candy, and it was so special to share a small part of American culture with them."
Senior Owens' last year of participating in NMUN was bittersweet.
"The highlight for me was seeing so many people who had never done NMUN before throw themselves into it, have a blast, and still bring home awards," she said.
--------------------------------------------------------------------------------
Reporting courtesy of PHC's The Herald.