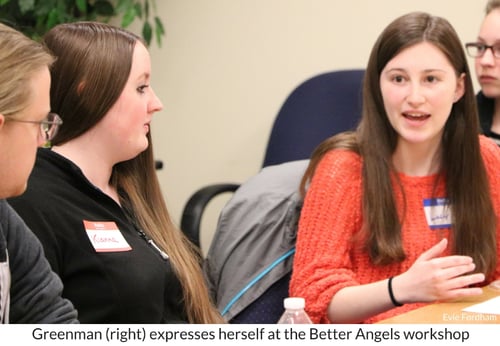 "Liberals and conservatives complement each other in a way that's almost scripted," Lucy Greenman said.
Greenman had just finished a bipartisan workshop facilitating discussion between liberals and conservatives (called "Blues" and "Reds" by moderators). The April 7 event was planned by Patrick Henry College students Seth Lucas ('19) and Madi Crawley ('20) and sponsored in conjunction by PHC's American Politics & Policy program and Better Angels.
Better Angels is a nonprofit organization that takes its name from a quote from Abraham Lincoln's 1861 inaugural address:
"We are not enemies, but friends. We must not be enemies. Though passion may have strained, it must not break our bonds of affection. The mystic chords of memory… will yet swell the chorus of the Union, when again touched, as surely they will be, by the better angels of our nature."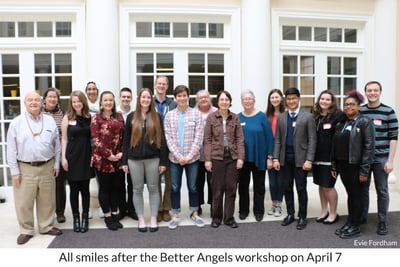 That quote sums up Better Angels' mission to depolarize American society, one discussion at a time. Five liberals from the District of Columbia area, five conservatives from Patrick Henry College, and two moderators met for the workshop on PHC's campus to come to a better understanding of one another while munching on trail mix and popcorn. All 10 participants were students or recent graduates ranging in age from 17 to 25.
[Related post: Don't believe these five myths about working in politics]
During part of the workshop, Reds and Blues were split up to discuss stereotypes.
"What are the worst stereotypes of your side?" asked moderator Susan Symington. "What is the truth? And why do these stereotypes exist?"
Then Blues and Reds regrouped to discuss their possible misconceptions of the other side, on topics from LGBTQ rights to abortion.
After lunch, the group engaged in discussion to answer "Why are your side's values good for the country? And what reservations do you have about your own side?"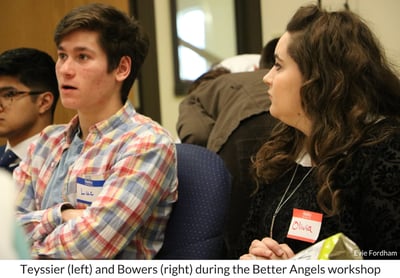 "Liberals treat every situation like it's dire," said Luc Teyssier, a Blue.
Liv Bowers, a Red who is a junior at PHC, suggested that conservatism creates a structure on which to ask the question, "Should we be changing?"
"The conservative movement tries to find answers outside of the government," added Kianna Smith, a senior at PHC and a Red.
On the other hand, PHC junior Meg McEwen suggested that conservatives might "want small government so badly we let go of the other concerns."
In the debrief that closed the workshop, the moderators asked what each of the participants had learned from the discussion.
Some expressed gratitude that everyone had been peaceful and polite. Most said they were surprised to find out how much everyone had in common. Many hadn't realized how much they didn't know about the other side.
"I didn't know Reds would think to discuss LGBTQ," Teyssier said. "I didn't know you thought about it."
Everyone was hopeful that Reds and Blues could start working together.

-----------
Enjoy this story? Then click the button below!