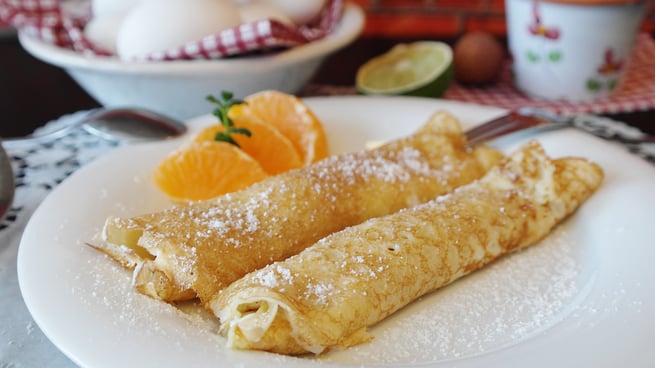 String lights hang above the courtyard outside La Petite Loulou, creating an ambience worthy of the title of Parisian Creperie + Bar a Vins. Inside, the hand-painted black and white scallop-designed floors, 1920s authentic Parisian lights, French antique décor, and French music all work together to transport the customers to 1930s Paris.
La Petite Loulou opened Saturday, February 18th. The first 50 guests received complimentary crepes for a year, and there were tastings, live music, and children's activities.
"We tried to emulate French culture throughout," Dusty Lockhart, co-owner of La Petite Loulou, said.
Lockhart and her husband Stefano Frigerio, a skilled executive chef who has worked at Fiola, a high-end restaurant on Pennsylvania Avenue in the District of Columbia. They moved their four children to Purcellville, Virginia, almost three years ago.
"We noticed there weren't many places we could take the kids…for a quick dining option and/or easy ways of dining," Lockhart said.
With a combined experience of about 40 years in the restaurant business, Lockhart and Frigerio decided to open their own restaurant.
"We asked the kids what they wanted," Lockhart said. "And they wanted crepes."
After researching how to "present crepes in a way that would still be profitable," Lockhart and Frigerio settled on a theme. The restaurant is designed to transport the customers to 1930s Paris.
"It was a very important historical [and cultural] time in Paris," Lockhart said. "But it was also a very vibrant time; the music, art, and art deco style that was coming out of Paris at that point in time was really phenomenal, and we wanted to emulate that."
La Petite Loulou follows the current shift in the restaurant industry, which is moving away from sit-down dining and entering into counter service operations.
"It just makes the food a lot more accessible and the experience a little bit easier to choose how you want to use it," Lockhart said.
The menu features a variety of French delicacies such as crepes, croissants, pastries, cheeses, wines, and espressos. The creperie is open from 7 a.m. to 9 p.m., seven days a week.
--------------------------------------------------------------------------------
Reporting courtesy of PHC's The Herald.