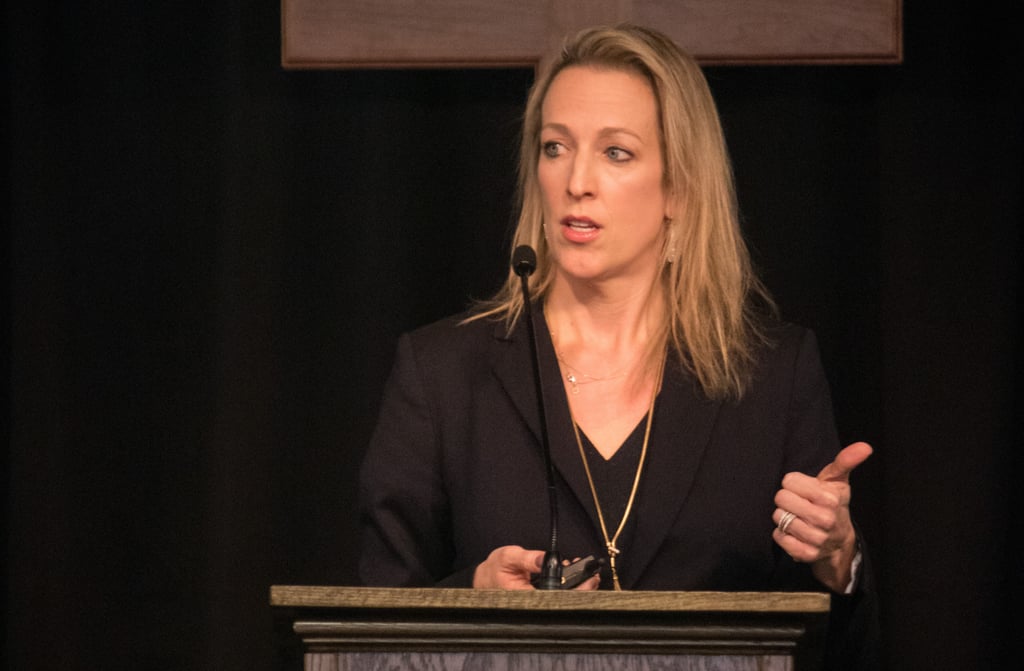 "I'm a Christian first and an economist second. That's important for all of us as Christ followers," said Dr. Anne Rathbone Bradley, speaker at this semester's Faith and Reason Day at PHC.
With a Ph.D. in Economics from George Mason University, Bradley is the Vice President of Economic Initiatives at the Institute for Faith, Work & Economics (IFWE). She works on research for a systematic biblical theology of economic freedom, and has taught at Georgetown University, George Mason University, and Charles University in Prague. Currently, she is at the Bernard Center for Women, Politics, and Public Policy.
She has served as the Associate Director for the Program in Economics, Politics, and the Law at the James M. Buchanan Center at George Mason University. Bradley has also worked as an Economic Analyst for the CIA's Office of Terrorism Analysis.
The lecture, entitled "Is Income Inequality a Sign of Injustice: A Biblical and Economic Perspective," focused on examining the problem of poverty by combining a biblical lens with an economic way of thinking. Bradley covered this topic in her chapter of IFWE's book, For the Least of These: A Biblical Answer to Poverty.
"Economists have to be grounded in the truth of human nature…and you can't do that without being grounded in the Scriptures," Bradley said.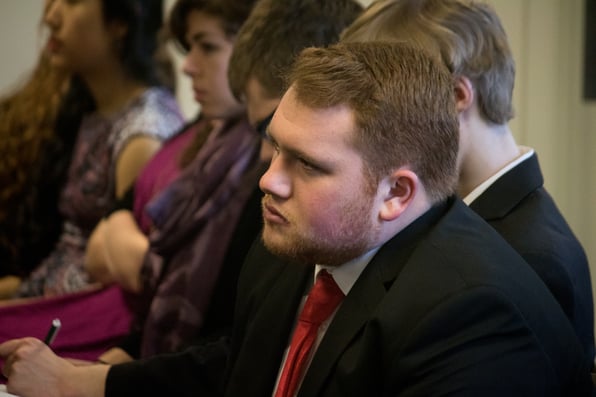 Students listen to Bradley's presentation.
Bradley started by looking in Genesis, and she pointed out that humanity does not find its origins in poverty. The Garden of Eden was bountiful, and God gave humans the charge to keep watch over what He bestowed to us.
"We were made to work and take care of what we were given," Bradley said.
We failed to do this in the way which God had commanded, however.
"If we look deeply," she said, "We have poverty because we're fallen, not because we don't have money."
Still, we are to do what we have always been called to do, even though it will be harder now that we are fallen. People specialize in what they are good at and earn an income because everyone has different skills and talents. Bradley noted that having different abilities does not mean you have different worth. She said that people often forget that dignity has to do with the One who created us.
"Time is the great equalizer," Bradley said. "Bill Gates only has 24 hours per day… If we believe Scripture, every minute counts."
She also said that Christians should use their God-given talents to better help other people. Equality in incomes does not necessarily mean equality in living conditions. Poverty and inequality are not the same thing. The Gini coefficient is commonly used to measure income inequality, but it does not accurately portray the quality of life in an economy.
"For us to prosper, we need to seek the prosperity of others," Bradley said.
Overall, the audience seemed to react well to Bradley's presentation. A few of the students, however, wished that she would have gone more in depth.
"[Bradley] did a good job, but I feel…that she gauged this towards a more general audience," freshman Sutton Haye said.
Freshman Emily Roessler particularly appreciated Bradley's use of the example of former President of the Soviet Union Boris Yeltsin's visit to the United States, where he was astounded at the abundance of a typical American grocery store. It seemed like a paradise compared to the rations in his country's planned economy.
"It was so interesting to hear that he was standing in awe of all the different kinds of popsicles we have," Roessler said.
"I really liked that [Bradley] gave a presentation and didn't read from a script because it was more engaging," sophomore MK Collins said. "She elucidated exactly why income inequality is not the most substantial issue facing America."
Poverty, in one form or another, is always going to exist in the world, but Bradley encouraged her listeners that they can help by understanding how wealth is acquired from an economic viewpoint, and learning how to then extend that wealth to the poor through biblical teachings.
--------------------------------------------------------------------------------
Reporting courtesy of PHC's The Herald.