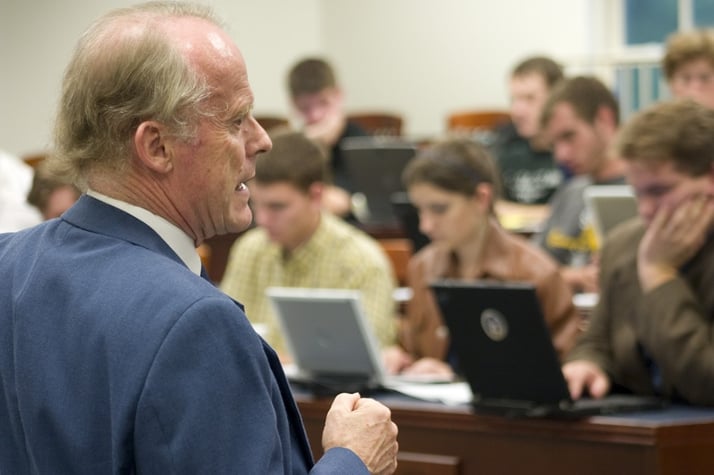 Former PHC professor David Aikman will move from his home in Warrenton, Virginia, to Vicar of Blair, a county in Ireland, in February to be closer to family. When Aikman left PHC two years ago after 10 years as a history professor, he took with him a hope for the future because of the students he taught.
"For me, it was the quality of the students. We, as professors, were dazzled by how good many of them were, and even if they weren't particularly intellectually talented, what fine personalities they were," Aikman said. "It was a real pleasure to teach people who wanted to learn and who were curious. It was a remarkable experience."
Aikman's career at PHC was unplanned. During a trip to Purcellville, Virginia, Aikman drove past PHC and then went home to research the school and what it stood for. After learning about the classical education model, the Biblical viewpoint, and the desire to shape culture, Aikman met with Dr. Michael Farris, PHC's founder, and was hired on the same day.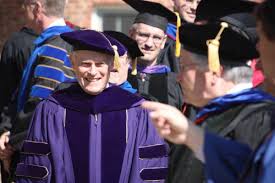 "When he decided to come here it was something the college was very excited about," President Jack Haye said. "In talking to David over the years as a friend, he knew that this was such a unique place with what we were trying to do, especially in looking at history and wanting to be as accurate as we could, while preparing students to think clearly and write well. That was really exceptional to him."
Senior Giovanna Lastra worked as an academic affairs assistant to Aikman. The time she spent working with him has impacted her well past his time at PHC.
"Dr. Aikman is a man who knows how to balance the practical understanding of being in the world while also knowing the beauty of being a believer and displaying that for the world," Lastra said. "He inspired me to see that God can work miracles in life, and he made me believe in the world, because he was present during events that were tragic, and he spoke of them in stories that made them beautiful."
Professor is only one title used to describe Aikman. His career at TIME Magazine spanned 23 years, starting in 1971. Aikman worked as senior foreign correspondent for TIME, as well as bureau chief in Berlin, Jerusalem, and Beijing. He has published nine books, traveled to five continents and 55 countries, and interviewed notables from Billy Graham to Aleksandr Solzhenitsyn.
"I claim no credit for getting the interview either," Aikman said. "I just happened to be at the Washington bureau, and just happened to be a Russian speaker, and the editor got a call and asked me if I'd like to go and do it. I said, 'Boy, would I like to.' It was an interesting time; the student protests were going on in China, and I got up to Vermont two days before I was flying off to China to cover what would become the Tiananmen Square Massacre, so it was quite a dislocation of scenes."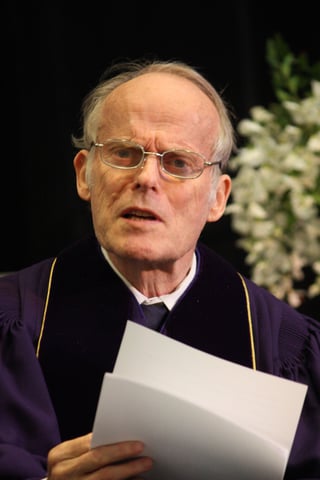 In his 2002 book Great Souls, Aikman named six people throughout history he deemed substantial in history, among them Solzhenitsyn, Mother Teresa, Nelson Mandela, and Billy Graham, who Aikman interviewed twice.
"The second time I interviewed Billy Graham, I flew into South Carolina, and I expected him to send someone to pick me up, but I came out, and he was sitting in arrivals with a sort of southern looking hat on to hide the fact that one of the most famous evangelicals in the world was sitting there, waiting for me, some unimportant reporter," Aikman said.
It is his spirit of humility that those who know Aikman find remarkable about him, along with an infamous reputation for being a tough foreign correspondent. Here at PHC, however, it is his graciousness that most impressed Dr. Mark Mitchell, Government Department Chairman.
"There's a kind of art to accepting help graciously, and he exemplifies that," Mitchell said. "The time or two I was fortunate enough to help him out, he'd smile, and there was a lightness to his attitude and a graciousness that was striking.
Whether reporting in a helicopter above Vietnam, interviewing African warlords in their homes, or being chased by the KGB on an assignment in Russia, Dr. Aikman has used a storied life and career to tell the truth about the world, and that truth is his lasting legacy here at PHC, a legacy that will follow him wherever he goes.
"Being a reporter is like being a fly on the mixing bowl of history," Aikman said. "I did not want to be a journalist, that is no secret, but I always wanted to be close to the events happening and I have been. There's no way I could have predicted that this would happen, but I suppose that's all of life. You take a leap of faith and from there you just go."
--------------------------------------------------------------------------------
Reporting courtesy of PHC's The Herald.