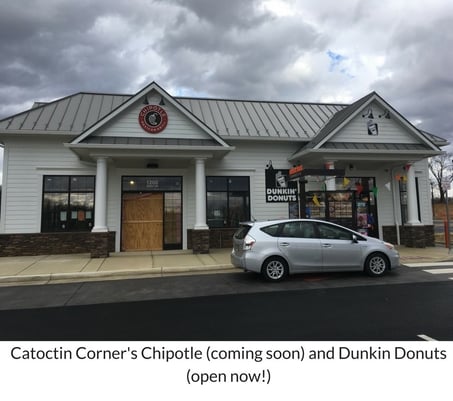 Purcellville's new shopping center Catoctin Corner is slowly coming to life with the recent openings of a Dunkin' Donuts and Catoctin Corner Dentistry.
Catoctin Corner is located in a lot adjacent to the Patrick Henry College campus, and students could not be more excited for the array of businesses it will bring within walking distance of campus. KLNB Retail, a northern Virginia-based commercial real estate service, will lease space to the following businesses according to this flyer:
Wink! Vision, opening January 2018
SuperCuts, opening January 2018
Chipotle, opening February 2018
Shell gas station and convenience store, opening March 2018
Bank of Charles Town, opening May 2018
In addition to the businesses above, KLNB has three other buildings, one of which can be subdivided, that it is seeking occupants for or negotiating leases for, including a potential daycare facility. KLNB hopes to announce the occupants of some of the empty spaces in February, said leasing agent Dallon Cheney.
Another gas station in the area may make prices more competitive (there are already a handful of gas stations in Purcellville).
Catoctin Corner will benefit Purcellville residents in many ways, said leasing agent Dallon Cheney.
"The amenities will be so convenient," he said. "If you don't like Starbucks, now there will be a Dunkin' Donuts [with a] drive-through. If you want Chipotle, you'll no longer have to drive to Leesburg."


--------------------------------------------------------------------------------
If you found this story interesting...