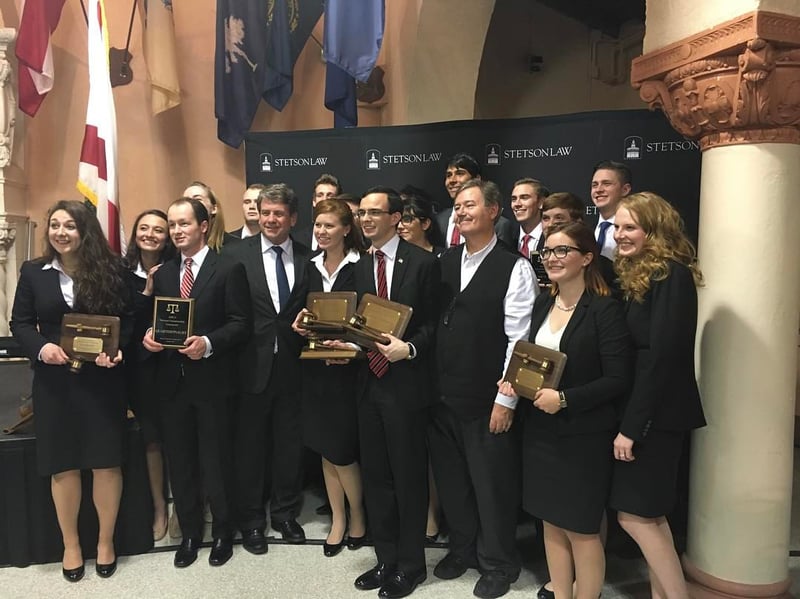 Patrick Henry College once again swept the national competition in intercollegiate moot court, winning its tenth intercollegiate moot court national championship at Stetson University College of Law in Gulfport, Florida.
In addition to winning first place, PHC finished with three of the top four teams at the tournament. Juniors Meridian Paulton and Thomas Siu took the victory in the final round against the U.S. Air Force Academy.
Winning a National Moot Court Championship is no easy feat. Dr. Michael Farris, Chancellor and Founder of PHC, said, "The field keeps getting stronger, but Patrick Henry rose to meet the challenge." According to the Stetson Law press release, More than 350 teams from across the U.S. competed in invitational events and 11 regional tournaments around the country to qualify to participate in the American Moot Court Association (AMCA) National Tournament. The national tournament included teams from University of Chicago, University of Virginia, Duke University, and Holy Cross.
Yet, even with 80 teams competing at the tournament, all 9 PHC teams broke to the out-rounds, placed first, third, and fourth, and took home two of the Top Ten Speaker Awards.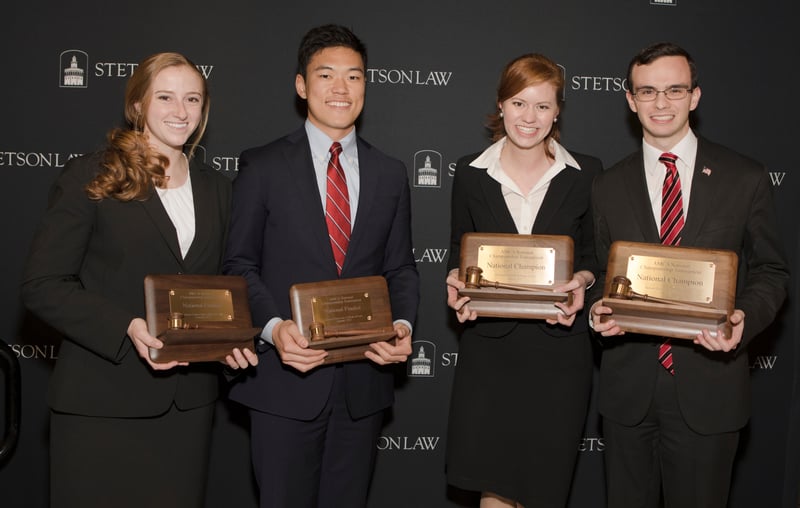 Meridian and Thomas with the U.S. Air Force Academy team they faced in the final round.
The winning didn't stop there. Meridian and Thomas are the second AMCA participants ever to have won both the brief writing and oral argument national championships. The prior team was Alex and Brett Harris in 2011, also from PHC.
Dr. Frank Guliuzza, co-coach of the PHC teams along with Dr. Farris, said, "We are very honored and humbled by this level of success."
Winning doesn't come from pure luck or talent. "We've worked for this for the past 3 years," Thomas said. "I'm still just in awe. All our teams were top-level, and it's great to be able to bring back the championship another time. We're thankful for our coaches, our teammates, and to God for the results."
PHC national competitor Christopher Baldacci echoed Thomas's sentiment. "Our performance at nationals was a testament not only to the immense talent on our team, but to the unparalleled coaching we receive and the special camaraderie we have. It is such a blessing to be on a team of such hard-working and encouraging individuals."
Patrick Henry College, offering one of the nation's top pre-law programs, is an institution of higher education committed to robust classical liberal arts training as a Christian mission with a biblical worldview. Moot Court at PHC teaches students to think clearly, speak articulately, and debate winsomely, both inside and outside the courtroom.
Clare Downing, another PHC national competitor, says, "I have high hopes for next season. The only thing different this [coming] year is that we're all going to have to fight just a little bit harder—something that we're all capable of."
View photos of PHC teams from the tournament below.
Photos courtesy of Stetson University. If you have problems viewing the photos, vist the photostream here.