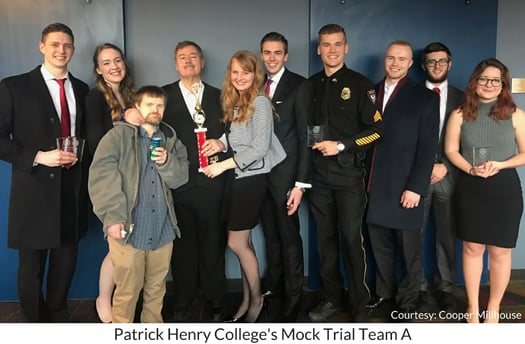 Patrick Henry College's Mock Trial Team A defeated the national defending champions from the University of Virginia at a mock trial tournament in Richmond, Virginia last weekend.
But after the teams competed, mock trial coach Dr. Frank Guliuzza thought he would have a little fun before he let the students know about their victory.
"Okay, tell me what went wrong in that trial. Who messed up?" he asked.
PHC's top mock trial team had just given their all against the defending national champions from the University of Virginia, and now it seemed that even that was not enough.
Team co-captain Shane Roberts, a senior, recalled what happened next.
"After we all silently racked our brains, [Dr. Guliuzza] said kind of quietly with a smile on his face, 'Well, it mustn't have been too bad—you picked up both ballots,'" Shane said.
PHC's Team A also beat Johns Hopkins University, Elon University, and the University of Maryland on its way to an undefeated record at the University of Richmond tournament last weekend.
With this performance, the team earned a spot at the Opening Round Championship Series (ORCS) in March, giving them a chance to qualify for the National Championship.
"We put a lot of work into preparing for Richmond, so I expected to see that effort rewarded," junior Clare Downing said. "I never would have expected for things to click into place as well as they did, though."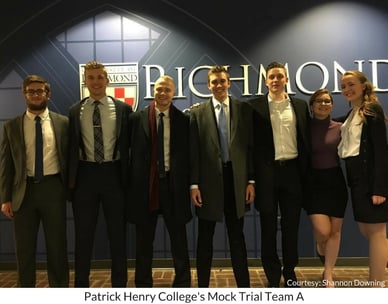 Only the University of Virginia's B Team also went undefeated at the Richmond tournament. In addition to winning eight out of eight possible ballots, PHC won six individual awards for attorneys and witnesses, three more than any other school there.
Junior Cooper Millhouse also attributed PHC's success to significant preparation beforehand.
"We went to a tournament last semester and then another one at Cornell the week before this tournament. On top of that, we dedicated the two days prior to the competition to hours and hours of preparation," he said. "By the time the tournament came around, we were ready to perform."
PHC also sent a second team to Richmond, led by David Slaughter and Nathan Jacob, which fell just short of a bid to the next round. In addition to the other team, freshman Samuel Zinkgraf accompanied Team A to the tournament to be their timekeeper.
"They're one of the best teams I've ever seen. Watching them knock off the national champs was incredible," Samuel said. "I just want to learn."
Despite their success, the team, which also includes senior co-captain Brenna Bakke and juniors Chris Baldacci and Caleb Engle, is keeping it all in perspective. Shane noted that last year, they also qualified to ORCS, where they failed to make it to Nationals by the slimmest of margins.
"We're pretty determined to keep that from happening again," he said. "This is our redemption run."
--------------------------------------------------------------------------------
Reporting courtesy of PHC's The Herald. Click the button below to learn about more PHC's success in forensics like mock trial and moot court!