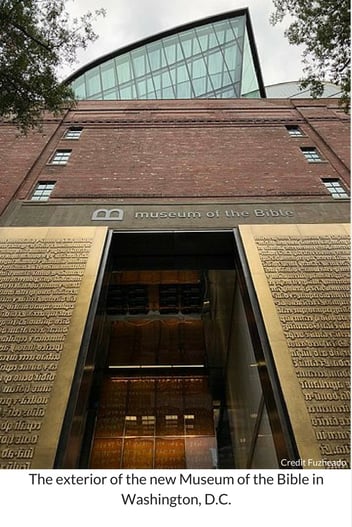 The new Museum of the Bible in Washington, D.C., opened in November, and many Patrick Henry College students and alumni have already visited the new spot.
In fact, it is only an hour-long drive from campus (and free!). They have been awed by its combination of historic artifacts, technological innovation, and storytelling.
"The Museum impacted me by showcasing the incredible resilience of the Bible," said Rebekah Jorgensen (Class of '17). "Walking through the timeline and seeing from the Bible's very first origins to the host of translations we have today, and yet seeing the same impact on lives for all these years, that's something that really sticks with you."
Rebekah and her fiancé Kent Hoshiko visited the Museum in December and were glad that they did. A PHC senior at the time of the visit, Kent was wowed by a first edition of the King James Bible New Testament from 1611. It is one of only two known copies to have survived, according to a Museum press release.
"It was amazing to think about the significance this common English translation had and the millions of people who were exposed to the Word of God via its pages," Kent said. "It all started with that book right in front of me."
An exhibit about the Bible's power to heal even the deepest wounds really touched Rebekah.
"They interviewed a few people who had lost loved ones from violent crimes, but then went through a healing process of bringing the Bible to prison ministries," she said. "It was a pretty small section of the Museum overall, but it was really impactful and highlighted the Bible as a powerful tool of forgiveness."
The Museum of the Bible is a great weekend activity for any PHC student who loves riding the metro into Washington, D.C. to check out the free Smithsonian Institutions. Kent and Rebekah say that they definitely plan on going to the Museum again, since a visitor cannot see all it has to offer in one visit.
"We were there for three to four hours," Rebekah said, "and I feel like we barely scratched the surface. And I would love to take both Christian and non-Christian friends there — it's accessible enough that a nonbeliever would still be intrigued, yet deep enough that the oldest Christian will learn something new."
--------------------------------------------------------------------------------
If you found this story interesting...