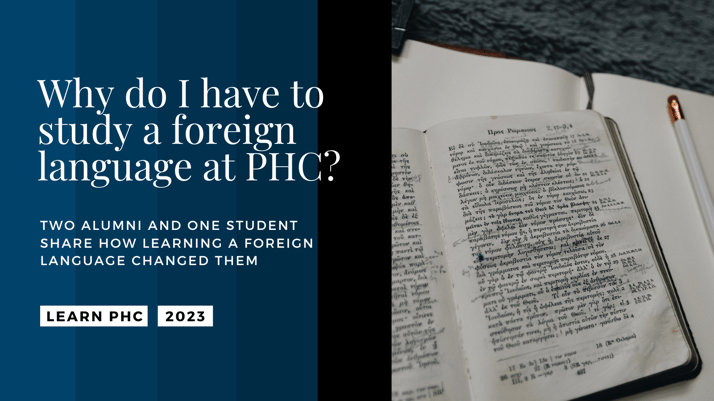 One of the most common questions we are asked is why our students must obtain proficiency in a foreign language. Depending on your PHC major, you can either study a Classical Language (Latin or Greek) or a Modern Language (such as Spanish, Russian, or German). While there is an option to test out (either through Advanced Placement Language Tests, a college-administered proficiency test, or both the certified Writing Proficiency Test and the certified Oral Proficiency Interview), most students choose to take a language during their college years.
If you are wondering if the foreign language requirement is worth it, we have compiled a list of questions and answers to help you with the decision!
Why is foreign language proficiency important?
Alumna Hope Sluka (Government '22) believes that learning another language is beneficial for students who desire to work outside of the U.S. "If you go anywhere in Europe, Africa, East Asia, Southeast Asia, you're gonna meet people who are at minimum, bilingual." While English is still the lingua franca in Europe, Sluka said, there is a natural benefit to speaking multiple languages when entering the career field.
Sophomore Isaac Rits believes foreign language proficiency is part of a well-rounded education. Rits believes that one of the ways students can understand other cultures' points of view and how they communicate them is through their language. How to do that, however, is based on your major.
"If you're a classical liberal arts major," Rits said, "and you're trying to understand the thought of the classics and of the classical thinkers, you want to get down to their mode of thought, which is Greek or Latin. If you're a Strategic Intelligence in National Security major, and you're trying to understand how potential adversaries think, you need to get into that too."
Alumna Kelly Freestone (CLA '21) thinks foreign language proficiency is important "because it's fun!" Pleasure aside, Freestone said that learning a foreign language teaches you how language works. "Toiling through the nuts and bolts of syntax, verb tenses, noun causes etc.—all things we use intuitively and unconsciously when speaking our native tongue—does wonders for understanding the mechanics [of] language, and how those mechanics communicate meaning," said Freestone.
Freestone studied both Latin and Greek at PHC. While she had studied Latin in high school, she did not appreciate the beauty and meaning of Latin and literature. That all changed when she read Virgil's Aeneid for the first time in Latin.
Foreign languages are ultimately the way different cultures communicate meaning. With ancient languages, that communication occurs in the form of reading, rather than speaking, but nevertheless, it allows you to encounter some of the best authors in the Western Canon (not to mention the New Testament!) on their own terms. That is always a worthy endeavor that rewards the hard work that goes into it," Freestone said.
How does studying a foreign language influence the way one thinks?
While living in France, Sluka learned how much the language you speak determines how you think. "When you're learning another language," Sluka said, "you begin to realize that the world is different from how you pictured it." Sluka recalled a time during her stay in France where this stood out to her the most. In French, there is not a single term for feeling overwhelmed. Instead, she had to use a phrase equivalent to "my cup is running over."
"When I first got there," Sluka said, "it was very difficult for me to explain how I'm feeling to people around me, because the word I was used to using in English just straight up did not exist." This made her realize that we often have preconceived notions of how we feel based on our mother tongue. When encountering a new language, "it causes you to reevaluate how you're actually feeling." What does it mean to feel overwhelmed?
For Rits, the history of the Russian language has colored how he views the Russian-Ukraine conflict. Rits explained that there are two ways to say "Ukrainian" in Russian. "One of them implie[s] Ukrainian as its own country. The other one means Ukrainian, but as a part of Russia, like they're Ukrainian, but they're really ours." The older generation tends to use the latter word and the younger generation uses the former. Rits said that learning another language helps one understand a people's history more fully.
Freestone's experience with classical language, since it is not spoken anywhere, helped her in a different way. "Studying a foreign language, perhaps especially an ancient, inflected language, requires a level of discipline, precision, and attention to detail." Freestone said.
Through Latin and Greek, she has sharpened her analytic ability and has given herself new tools with which to tackle other intellectual problems. For Freestone, learning Classical Languages was also a humbling experience since there is always so much more to learn. "In some ways," Freestone said, "the more familiar you become with them, the more you recognize and appreciate their foreignness."
What advice do you have for current students struggling through language courses?
"Learn as many languages as possible." Rits said. His long-term goal is to learn French, Irish, and then possibly Korean. "I just want to learn as many [languages] as possible so I can speak with as many people as possible. I love other cultures and being able to talk to them is not only fun, but it's a good witness."
Freestone encouraged students who are just beginning their language journey to memorize all the assigned vocabulary and paradigms. "No one particularly enjoys this grunt work of language learning, but your reading ability will increase tremendously just by having the words and endings at your fingertips." For students further along, Freestone encouraged students to enjoy it. "You have the tools you need to succeed; practice your reading skills and just soak it in."