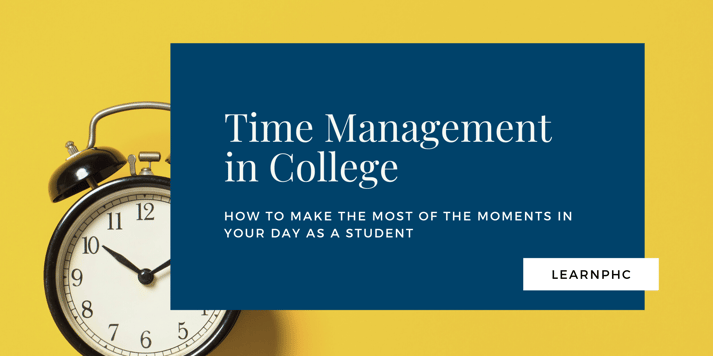 Time is an indispensable resource, and managing it is key to success at college and just about anything in life. Time management is a difficult skill to master, however, so here are a few tips to help you achieve success.
1. Know Your Weaknesses
What distracts you? Do you find yourself texting or browsing YouTube when you should be studying or working? A first step towards mastering time management is to be aware of what pulls your attention away from work or school. Knowing your weaknesses will help you notice when you are getting side-tracked and help you guard against those obstacles.
To keep distractions at bay, try putting your phone somewhere out of reach, or setting a timer for when you can take a break. Make it a goal to stay focused, and let activities such as social media or texting be a reward once you have completed your tasks.
[Follow our Pinterest Board for tips on scheduling, studying,and more in college!]
2. Create a To-Do List
Feeling overwhelmed by the seemingly million things on your plate? Try writing down your to-do list to organize and prioritize your tasks. Even if you only have a handful of tasks, having a physical list will help you schedule your responsibilities.
Having a monthly calendar is important so you can mentally prepare for deadlines. But don't just have a big-picture plan; try making a weekly and daily checklist for deadlines and tasks to schedule your time appropriately. Set aside time Sunday evening or Monday morning to think ahead and plan for that week. Then each evening or morning throughout the week, detail when you plan to complete each item.
[Moleskin 18 Month 2020-2021 Planner]
3. Follow Routines
Creating a routine and sticking to it will help you stay on top or your to-do list. It is helpful to create your routines around times of the day when you know you'll perform a certain task best. Are you most focused in the morning? Or are you a night-owl? Try accomplishing your tasks when you know you will use your time most optimally.
4. Understand Your Task
Understanding a task or assignment will help you know how much time you will spend on it. This will help you schedule appropriate blocks of time each day. For students who are prone to overthink assignments, creating a goal of how long you want to spend on an assignment will help you be efficient and will save you time as well. For students who are prone to procrastinate, this will help them mentally prepare to work in their scheduled slot each day.
5. Anticipate the Unexpected
Leave room to be flexible in your schedule. Life happens and we often don't know when it will, but you can leave some extra space in your week just in case.
6. Don't Get Discouraged
Change does not happen overnight! Do not get discouraged if you still catch yourself reaching for your phone or browsing Patrick Henry College's Pinterest boards. Time management takes practice. But remaining faithful in the little things is how we change the big things.
If you found these tips helpful, share with a friend! We all need reminders to steward our time well.
To read other tips about how to stay heathy and maintain productivity in college, click here to read our article on investing in long-term health in school!
------------