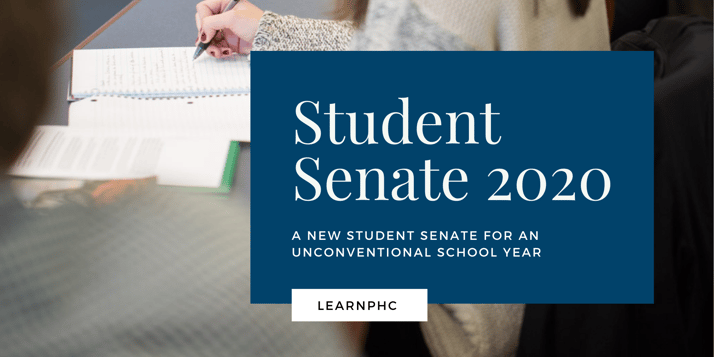 "I do solemnly swear that I will adhere to the Constitution of the Patrick Henry College student government and I will well and faithfully discharge the duties of the office on which I am about to enter. So help me God," recited 15 students as Student Body President Ben Purnell swore them into the office of Senators on Monday, Sept.14. In the first meeting of the year, the Student Senate elected various Student Government positions including the Speaker of the House, the Judiciary Committee, five Senate committees, and the Executive's cabinet members.
Though the ten new and five returning senators have varying policy aspirations for the Senate, each senator ran on a platform that expressed a desire to serve students.
"We are here to serve the students first and foremost. We are here to be a voice for them and to help them with the things they want to get done," senator Hope Turner said.
In the inaugural meeting last Monday, the senate elected sophomore Jordan Armga to be its Speaker. Having staffed at TeenPact, a politics and leadership camp for teens, Armga is well versed in parliamentary procedures. "I think that he is a great choice for student senate speaker because he is someone who will keep the meetings moving and respectfully listen to everyone's ideas," senator Katie Sutton said.
The Senate also confirmed seven executive cabinet members in last Monday's meeting:
Noah Farley, Attorney General,

Mariana Paris, Secretary of the Mental Health Initiatives,

Kaitlan Michels, Secretary of Community Outreach,

Samuel Rule, Secretary of Treasury,

Samuel Bock, Secretary of Campus Events,

Josiah Ssempa, Secretary of Diversity Communication, and

Colin Turner and Nathaniel Reiley, Co-secretaries of the Intermural Sports Board.
Instead of seeing Senate as simply a student club, senator Josiah Dalke sees it as a tool to equip other campus clubs. His goal for senate is to promote the health of campus and help students engage with the Purcellville community. He believes one way to accomplish these goals is to support campus clubs already engaged in these efforts. "We [will] have the resources with the Student Activity Fee to actually go and do things now and those are the things we really ought to be doing," Dalke said.
Senator Katie Sutton's vision for senate is to connect students with the community and provide service opportunities. She hopes to create a system that will connect PHC students to local leaders as a way for students to stay informed about local opportunities to serve.
New to senate, Turner hopes to help bring it back to a positive reputation among students. "I want the senate to be humble and flexible. Basically meaning no one is trying to push their own agenda. No one is trying to just like boost their resume. It's all about being humble and saying, where does the Lord want us to be and what does the Lord want us to do?"
______
Want to learn more about what student life is like at PHC? Click below to learn more!