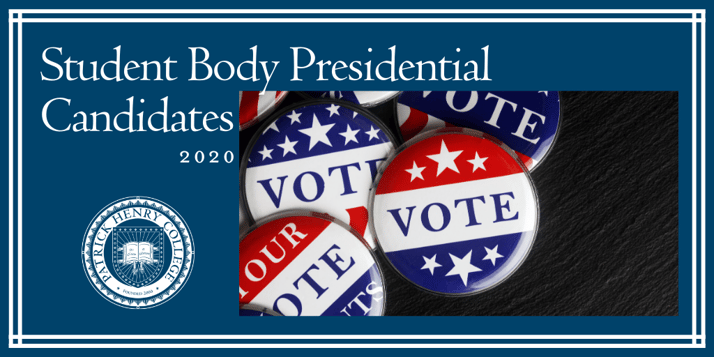 The filing period for Student Body Presidential elections closed on Friday with three tickets in the race. Samuel Bock is running with Susanna Hoffman, Purnell is running with Kayla Schleining, and Matthew Torkelson is running with William Hutton.
The teams began to campaign last Monday, launching social media ads and discussing their platforms with fellow students. Each campaign expresses a passion for getting students involved in the local community and helping them take advantage of the unique benefits PHC has to offer.
Bock and Hoffman: Building Connections in the PHC Community and Beyond
Bock and Hoffman's campaign promises to bring more internship opportunities to campus. "We're working to bring the intern coordinators from 20+ organizations on campus to interact directly with PHC students," Bock said.
Bock and Hoffman also want to strengthen PHC's alumni connections by building the bridges that make internships in DC more affordable, in additional to establishing a mentorship program between PHC alumni and upperclassmen.
The team also wants to expand PHC students' opportunities in local government and keep students updated about events by "bringing representatives from local organizations, churches, companies, and stores on campus and allowing them to set up tables in the BHC lobby," Bock said.
Purnell and Schleining: Capitalizing on PHC's Community, Culture, and Future
"We are proud of what our students have to offer the Loudoun Community," the team said. In order to get PHC students more involved in the community, Purnell and Schleining plan to create an database for opportunities available to students.
"It's the place of student government to be organizing the student body and to do activities that we can actually do on our own," Purnell said. "We want to see the Student Body President become something other than a glorified title. I want to change it to where there's actually more requirements for something specific for someone to do."
Purnell and Schleining want to lay a foundation of unity for the office of Student Body President that lasts longer than one term in order to better serve the PHC community.
Torkelson and Hutton Challenge Students to Get Involved in Student Government
Torkelson and Hutton have noticed a disconnect between the student body and student government. They want to encourage students to take student government seriously, so that they can begin to reconnect the two. Torkelson wants "PHC to determine what the identity and role of student government should be in the life of the student and what attitude [students] should take towards it."
Their campaign is focused on providing a proactive spirit to student government. Torkelson and Hutton would like for student senators to be assigned to specific students to improve communication between student government and the student body. "I think a lot of the problems with student government are a result of a lack of proactivity in engaging the student body," Torkelson said. "Issues could be taken more seriously if senators engaged with students directly over all issues, not just the big ones."
---