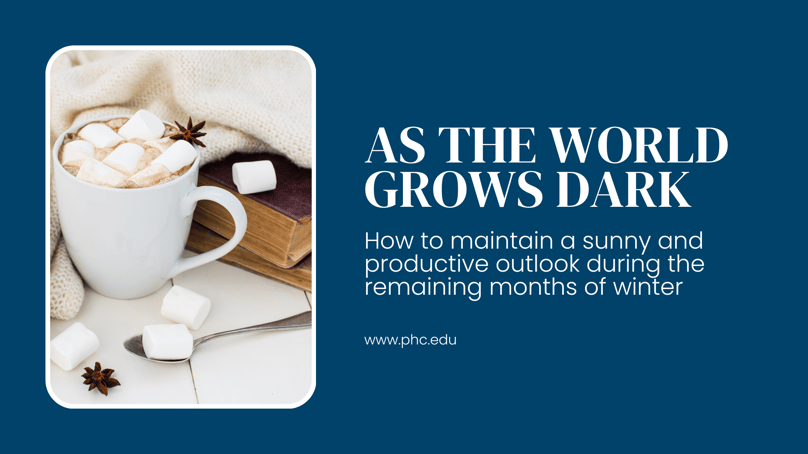 "Winter kept us warm, covering / Earth in forgetful snow" - T.S. Eliot, The Wasteland
It is that odd time of year again. The refrains of "Winter Wonderland" and "Let It Snow" have died in the return to monotony. Christmas is over, and there aren't any major holidays to offer a reprieve from my busy schedule. It is still winter, but odd warm days simply tantalize our desire for spring. Some days it is colder than others. I hear some wish for snow, others are glad to miss the ice crystals falling from the sky. Someone complains about the cold, and I hear someone say, "Well, where I'm from…."
I return to my room, curl up in a blanket, and fall into the world of C.S. Lewis. As the world gets darker, I wonder, is it not time for spring? The season seems to crawl at a snail's pace, and I grow weary of dark, cloudy days with no snow. But then, I crawl out of my cozy spot and turn on some lights, open my computer and play a fireplace video with soft jazz music. I think to myself, "Perhaps this season is not so bad after all."
While the continuance of winter weather can prove challenging, there are ways that you can battle the temptation to curl up in a blanket and sleep when you need to be productive.
1. Turn on the light
Turning on lights can immediately raise your productivity. Especially on a dreary, dark day, it is essential to have light. Besides eliminating eyestrain, light also reminds your body that it is daytime and time to get work done. If you want a more cozy, homey environment, string up some Christmas lights and have a couple of battery-powered candles. It is also helpful to have a desk lamp in addition to whatever overhead light you might already have in the room.
2. Exercise
Getting up and moving around is a wonderful way to improve your ability to comprehend material, wake your body up, and get the endorphins pumping to make you happier. Take a break from your studies, walk around, dance, or go to the gym—whatever it takes to get you active!
3. Drink warm beverages
Making yourself a cup of coffee or tea will warm you up and give you a bit of a caffeine boost. Whether you are sip it as you study or use it as a reward, it will help you feel cozier and more productive.
4. Find out what temperature makes you the most productive
During the cold months, it's tempting to turn the heat up, curl up in a blanket with a hot beverage, and fall asleep, especially after coming in from outside. However, you may be more productive in a colder temperature than warm. Do you get sleepy when you are warm? Try out a colder temperature and see if it helps you stay productive.
5. Go somewhere else to study
Sometimes a change of scenery will push you out of the cloud of procrastination. Find a coffee shop or library you like to go to, treat yourself to a warm drink, and get to work!
6. Get out in the sun for 10-15 minutes a day
When the sun is out, take a brief break and go outside. Being in the sunshine will work wonders for you!
7.Make plans with friends and keep them
Make evening plans with friends. Play board games or card games and make new memories! To make it an even more enjoyable experience, make a hot meal together and share favorite winter family recipes.
8. Eat comfort food
Sometimes what you need the most is a nice hot meal. Make a list of your favorite meals and places to get them. When you need a hot meal, pull out your list and make your choice!
-----