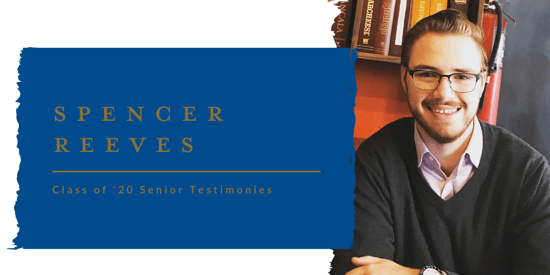 At Patrick Henry College, Senior Testimonies are an opportunity for upperclassmen to encourage campus with the lessons they've learned in their four years as undergraduates. Traditionally, testimonies are shared during corporate chapel, but in light of these unusual times, students are sharing their testimonies through video.
We chatted with senior Spencer Reeves after his senior testimony so you can get to know him a little more. You can find Reeves' senior testimony here.
Q: What is one thing you will miss the most about PHC?
Chapel. I think it's one of the most overlooked blessings of life at PHC. It's such a joy to join together in worship alongside the believers with whom you live, work, and pray every single day.
Q: What was one memorable moment during your time at PHC?
Probably my junior year when my good friend and best man Ian Frith took four small decorative pumpkins (that I had bought at Harris Teeter) and hid them all over Red Hill, the dorm I was living in at the time. He told me that if I retrieved all the pumpkins within twelve hours of waking up to his petty larceny, he would buy me Chipotle after church the following day. I spent that entire Saturday searching the dorm, finding pumpkins in vending machines, printers, dorm rooms, etc. We amassed quite a following on Facebook. In the end, I got free Chipotle.
Q: How did God change you during your time at PHC?
I came to PHC because I was looking to go to law school and starting in the fall, I am going to law school. However, PHC changed the reason why I do a lot of what I do. In my senior testimony I talked about the importance of love in all things. I don't think I treated people instrumentally before I came to PHC, but I definitely treated my labors that way. Through my time at PHC, God used people to show me that our calling is to love the labors laid before us and to love the people placed in our lives for their own sakes, in a very conscious way.
I fail at this every day. But before I came to PHC I didn't even think this way. I'm learning that it is impossible to be a truly good student absent an intentional love of the object of study, it is impossible to be a good friend absent an intentional love for your friend, and so on in marriage, discipleship, work, and worship.
Q: What has PHC given you that you'll most likely have forever?
A deeper knowledge of and love for Christ, a lovely wife, amazing friends, a taste for all that is good, true, and beautiful, and a vision learning that I hope will be lifelong. I think our modern vision of education tells us that a job is the goal of collegiate study. While I've been accepted to law school and equipped to succeed as a professional, I count this among the least valuable things PHC has imparted to me. PHC has given me a foundation to, with God's help, live well in whatever circumstances I find myself. I for that I will be forever grateful.
Q: Who were several people who influenced you and your walk with God while at PHC?
The number one person who influenced me during my time here at PHC is my wife Sarah. We met at Admitted Students' Day at the end of our senior year of high school, dated freshman through junior year, and we just got married this spring. Sarah has taught me so much about love, sacrifice, compassion, and beauty over these past four years.
After Sarah, three of my roommates have been extremely impactful: Ian Frith, Kyle Ziemnick, and John Southards. Ian and I lived together the summer after my sophomore year and all of my senior year. His people-centric vision helped grow and stretch my ability to love and relate to others, when my personal tendency is towards focus and isolation. Kyle and I lived together my junior year. Kyle has been an academic sparring partner and a kind and wise counselor whose levelheadedness has helped me through some difficult seasons.
John and I lived together my sophomore year. My strongest memory of that year is John easing himself into bed at the end of the day and sighing "One day closer to death," which was his slightly morbid way of reflecting on the reality that all we do here is transient, but eternal bliss with our Savior awaits at the end of this age of troubles. I haven't always taken that message to heart as well as I should have, but John's wisdom has been a blessing in times of worry and struggle.
______
Click below to read more about senior testimonies at PHC!