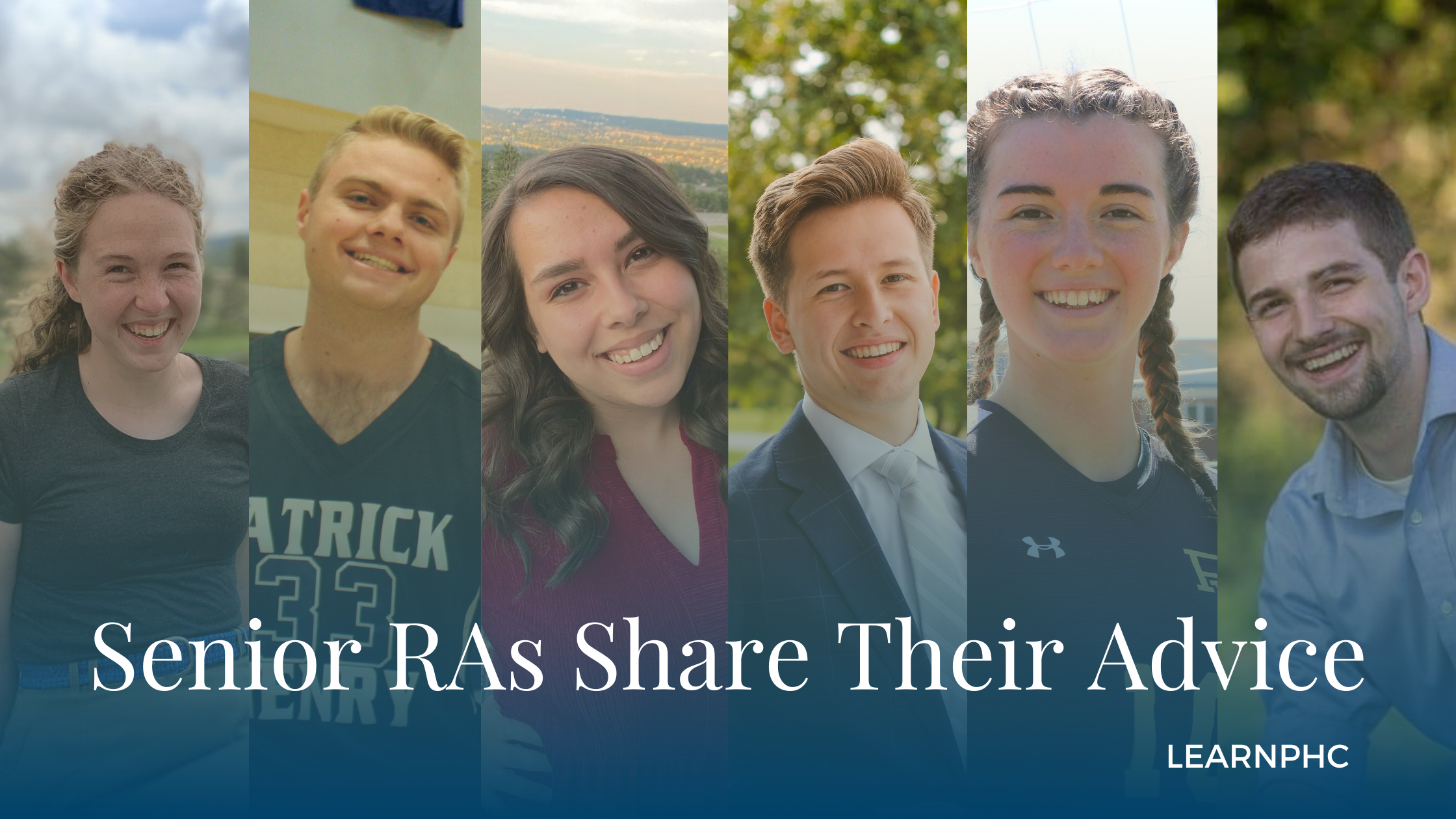 Snow swirled around the pillars of the Barbara Hodel Center, piling as high as four inches all across campus in the fall of 2021. Noticing the winter wonderland that appeared overnight, senior Resident Assistant (RA) Mary Muncy and her wing ventured outside their dorm, bundled in their coats and jackets, and engaged in a wild snowball fight.
This experience was Muncy's favorite memory as a PHC RA. It was a time of bonding, community, and affection. The responsibility to guide students, lead weekly devotions, and serve others before oneself provide a select number of PHC students with advanced training in leadership. Alongside Muncy, seniors Graham Rider, Cole Reynolds, Elizabeth Borders, Nathan Reiley, and Kati Marr shared their thoughts about what it takes to be an RA at PHC.
Why did you want to be an RA?
Reynolds: I wanted to be an RA because I had benefited a lot from the PHC community and my RAs, and I wanted to have a role where I could disciple and pour into my peers.
Reiley: I think it's important for people to seek opportunities to serve one another. [This is] one of the most practical, most effective ways to serve [on campus].
What was the hardest thing for you to accomplish?
Marr: I think the hardest thing for me was balance. I've learned that there is so much more to being an RA than just leading wing chapel. However, it is easy for your RA duties to take over your life. You have to learn how to balance your RA duties, academics, and a personal life.
Do you have any tips for future RAs?
Marr: Be humble and willing to learn. Don't approach the job thinking that you know everything. Find ways to be a servant and be open to new ideas!
Rider: Do whatever you do with confidence and humility. … [In regard to communication,] sometimes being direct and blunt is far more effective than trying to marshmallow.
What was something that happened to you which you did not expect as an RA?
Muncy: I didn't expect that the girls would want to come in my room and just want to sit and hang out at night, which is so fun! I'm like, "This is so cool!" It's mostly just been fostering community.
Give me a good motto for future RAs.
Marr: Pray, pray, pray!
Borders: Yet not I, but through Christ who lives in me.
PHC students rarely forget their first or their last RA. The current RAs will pass the torch to a new team of selfless and devoted students who will administer friendship and guidance to the student body. Both the lasting memories made with the whole wing and the personal counsel with the RA makes living in the PHC dorms unforgettable.