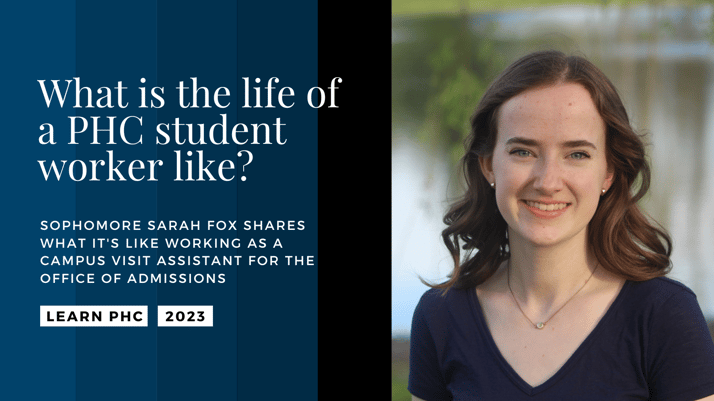 Sarah Fox is wrapping up her sophomore year at Patrick Henry College working as a Campus Visit Assistant for the Admissions staff. This semester, she has worked 10 hours per week alongside 13 credits of classes and Forensics. So, what is life for the student worker like? How does one manage assignments and exams on top of working a job? What are the benefits versus the disadvantages of working on campus? Fox provides her thoughts to these very questions below!
What do you do as a Campus Visit Assistant?
I do a variety of things. I lead prospective students on tours during their campus visits. I work behind the scenes helping with the process of making visit schedules for prospective students' campus visits. I do a lot of spreadsheet and bookkeeping work to prepare for visits, Open House events, and other Admissions Office events. When I'm not doing those things, I do odd jobs around the office.
How do you manage your time?
The first thing that I did at the beginning of the semester was put all of my assignments into one big schedule alongside my work hours. I cannot move my work hours, so I have to be diligent with my homework and assignments. Knowing in advance when big assignments are due is helpful in order to manage my time around that. Second, I used to study throughout the day. However, now that I work throughout the day, I switched my schedule up to study in the mornings and evenings primarily. Building this rhythm in my daily schedule was tricky at first. However, intentionally building a habit ended up helping as the semester picked up speed.
What are the benefits and drawbacks of working on campus?
It's a very fun environment and I love getting to meet new people. The staff I get to work alongside truly care for me and make a joyful workplace environment. However, it can be difficult some days to keep an energetic smile for guests when the office and school are particularly busy. No matter how busy the week is, my job in particular is not very flexible. Therefore, I have to intentionally stay ahead in my school work to ensure I do well in both school and work.
What advice do you have for those considering an on-campus job?
For prospective students who don't know the workload yet, having an on-campus job is definitely doable. You just have to be intentional. For both prospective and current students, find a job that you enjoy. This will give you motivation and encouragement when school assignments get hard. Find your best study times, so that you can take advantage of scheduling work around those times if possible. Be consistent and intentional in your time management. Visualize your schedule and time commitments. Put thought into the process. When you do this, working alongside school is completely doable.
Why did you choose this position of work?
I love PHC. I wanted to share the parts of PHC that drew me to the school with other prospective students. I also wanted to find a way to give back to the school and I found this through working for admissions. It's a wonderful office to work in because of the staff and the work we do.
Are you enrolled at PHC? Click here to check out opportunities for on-campus student employment.