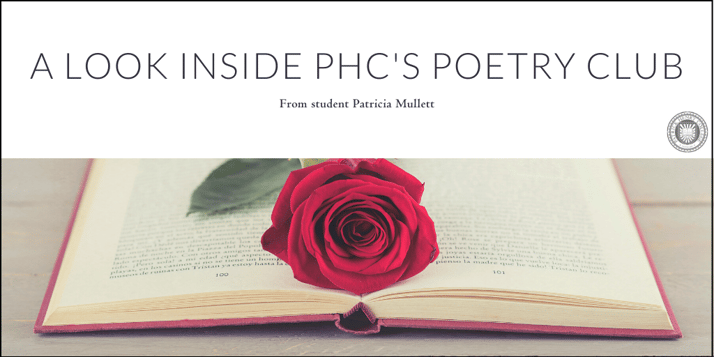 As a classical form of art, poetry's beauty has inspired generations of writers from Homer to the present day poets to write about the world around them. President and co-founder of PHC's Poetry Club, Patricia Mullett, is passionate about poetry and has some insights to share. Here is what she has to say...
Why did you decide to start the Poetry Club?
Emma Randall and I started it because we love poetry, and we wanted to share it, but also because a PHC education is about becoming a well-rounded person. We wanted to add shared poetry to people's lives. It was partly inspired by the "Dead Poet's Society," and we considered meeting at night and in secret, but wanted to share the art with everyone who wanted to come.
What is the club's main purpose?
The club's main purpose was to introduce people to different kinds of poetry and expand their knowledge of good poetry.
What do the meetings look like?
The meetings are pretty simple. We sit in a circle and popcorn-read poetry. Sometimes people read originals; sometimes we read our favorites; sometimes we read long poems; sometimes we read super short ones. Most times at least two people are drinking tea. Sometimes we get distracted and go on rabbit trails inspired by the poetry.
Some attendees have read originals that blew me away. Those are some of my favorite memories of the club. I also remember one meeting where various people got up and dramatically performed some poetry, and that was beautiful and really fun.
What are your favorite parts of the meetings?
I absolutely love hearing people's originals. Poetry and writing in general is so personal and says so much about the author. It's really unique to get a glimpse into people's souls that way.
I always close the meeting with Rudyard Kipling's "If." It's not only one of my favorite poems, but it also has so much meaning and application to our lives as college students. I want people to always remember "If," because it's given me guidance and correction throughout high school and college.
______
Want to learn more about campus life at PHC? Click here...