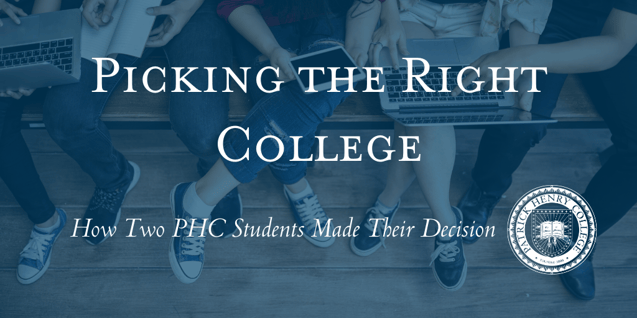 Knowing what college to pick is hard, especially when there are so many good options. Choosing the right school is not only choosing what type of education you'll have at the end of four years, but what type of person you'll be and what experiences will have molded you. We talked to two students about how they made their decision. Here's what they said...
Be Practical
"On a practical level, it is one of the few schools in the country that would give me a scholarship for my only high school activity that would translate into collegiate level participation: mock trial," sophomore Allyn Sims said about choosing to come to PHC.
Don't make college a pie-in-the-sky aspiration. Think deeply about what you want to do, and narrow your college search to schools that can best help you get there. Don't view school as the ultimate destination; view it as a means to get to a destination.
Start Early
If you have a school that you're interested in, look into their online courses. Getting a head start on college is a great way to have more insight into the decision making process. Sims took eight Distance Learning courses with PHC and counted them as dual credit.
Taking online classes helped her get an inside look at what it would be like to attend PHC. "At that point, I was sold on the academics. I loved the integration of material that a classical liberal arts education provides, I loved the subject material, and it really impacted me that the professors really invested in me and cared about me as a person even though I was only a virtual student," Sims said.
Take Time to Seek God's Will
"God brought me to PHC; I did not want to come!" senior Ben Stiegelmeier said. He came to PHC two years after graduating high school and didn't originally want to go to college. Then, after a year and a half or working, "God began pestering me about going to college. Some trusted people in my life told me, out of the blue, that I should go to college," he said.
Students who want to find God's will on their college decision should consider giving it a lot of time. Don't rush going to college because you think it has to happen immediately after high school. After all, God has a different plan for everyone.
Stiegelmeier's college decision was complicated and a hard one to make so he decided to do what he calls "a Gideon move." He prayed and said "God if you really want me to go, I'll apply. You make them accept me. If not, make them reject me, and I'll get on with my life." He applied May of 2017 and was accepted that year. "I thought I was two years late, but over and over again God has confirmed that I am supposed to be at PHC and I am right on time," he said.
"Pray and ask God to open a door before you to guide your steps, ask Him to clearly close the doors where He is not leading, and plead for courage to knock on doors in faith, trusting Him," Stiegelmeier recommends.
Visit the Campus
One of the most helpful ways to determine what college is right for you is to get an up-close look at it for yourself. Visiting campuses is a crucial way of assessing a college's atmosphere.
"If at all possible, I would recommend visiting the school. Meeting students, staying in the dorms, attending classes...all of these do a way better job of actually delivering a full picture of a school than a website ever could. You get to know the character of the people attending, the caliber of classes, and as a result, the character and the caliber of the school itself," Sims said.
Visiting PHC's campus is what helped Sims decide where to attend, and it has helped a lot of other students make decisions as well.
Don't get distracted by the wrong factors
Stiegelmeier recommends not making a decision based off of money. "I initially came with no scholarships. When we take steps of faith, then God shows up. He provided miraculously for me!" He said.
Stiegelmeier also advises not making a decision based off of fear and doubt. It might be scary to attend a school far away from your hometown or figure out how to make finances work, but neither of those fears should determine your decision.
"I knew that if God called me to PHC, then I needed to give it a try, but it didn't make sense to me for a farm-kid who doesn't like school to spend four years and a bunch of money to go to college 1,800 miles away," Stiegelmeier said. It's okay to have doubts, but not to let them get in the way of making the best college decision. In the end, it's all in God's hands.
______