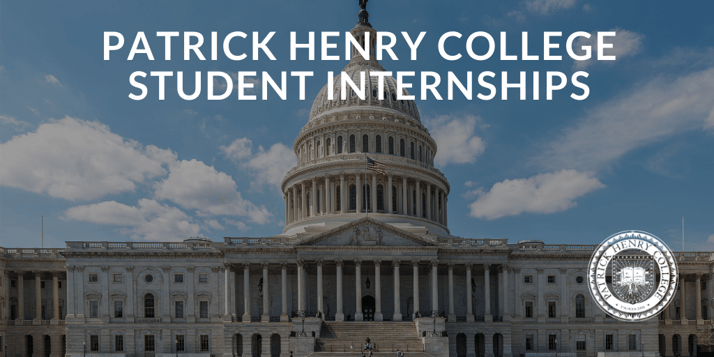 Internships and apprenticeships are essential for college students, for both experience in their specific field of study, and for opportunities in their career. Patrick Henry College students intern at a rate unlike any other college or university: of the Class of 2019, 100% of graduates completed internships before graduating compared to the 61% national average.
Patrick Henry College's location, 50 miles from Washington, D.C., and reputation for the highest quality interns enables our students to participate in some of the most desired undergraduate internships. Keep reading to hear about five current students and their internships in and around Washington, D.C.
Elle Reynolds, The White House

Elle Reynolds (GOV '21) worked in the White House Office of Political Affairs in the summer of 2019. Reynolds' job in the Office of Political Affairs included researching policy topics such as healthcare, economic opportunity zones, the Administration's efforts to combat human trafficking, etc. Reynolds compiled research into briefs for use by the office when meeting with local county delegations to cabinet secretaries.
Applying for the internship, Reynolds contacted PHC alumni with connections to the White House. "I'm sure the recommendation of PHC alums now working at the White House helped flag my application," Reynolds said. "This summer, I would run into multiple alumni working at the White House in the same day, and the other girls in my office laughed since it seemed like everywhere I went I knew a friend from PHC."
While interning at the White House, Reynolds learned to be faithful in the small things and to have a joyful attitude. "Sometimes an assignment I would get seemed tedious or unimportant, but I never knew when one of my bosses would come back to the office and tell me that he had referenced my work in the meeting with the President," said Reynolds.
Peter Poythress, Department of Justice
Peter Poythress (SI '21) works in research for the Department of Justice. Poythress' tasks with the DOJ include reading, writing, peer-editing, and regular meetings.
After completing the summer with the DOJ, his supervisors asked Poythress to continue working, and he is still employed at the Department.
Poythress accredits his current job with the DOJ and his attending PHC to a lot of direction-changing from God, a successfully pushy PHC Vice President Howard Schmidt, and an older brother who thrived at PHC.
"PHC's special projects, resume workshops, and networking opportunities undoubtedly gave me a chance that I wouldn't have had otherwise… [the DOJ] is a great (paid!) internship, and I'm happy to answer any questions about the work, the application process, resumes, opportunities, etc. with anyone who's interested. I highly recommend it," said Poythress.
Mikael Good, Providence Prep and Loudoun Classical School
Mikael Good (GOV '20) is interning as a teacher at both Loudoun Classical School (LCS) and Providence Prep in Loudoun County, Virginia. Good teaches three high school classes a week, makes and executes three lesson plans a week, and grades assignments.
Good learned of this opportunity through Visiting Professor of Philosophy Dr. Littlejohn, who is headmaster of LCS. "This internship kind of fell into my lap, but that's what tends to happen when you have a personal relationship with your professors," Good said. "My professors at PHC—especially the ones who teach my upper-levels, which usually consist of 4-10 students—know me as a person, know my work, and know my strengths and weaknesses. I've gotten a lot of cool opportunities from them, and I'm very grateful for that."
Abi Carter, Federal Communications Commission
Abi Carter (GOV '20) worked at the Federal Communications Commission in Washington, D.C the summer of 2019. Carter was a legal intern in the Enforcement Bureau, completing tasks such as independent legal research and serving subpoenas. Carter was also involved in several private meetings between the government enforcers and industry members.
Through her previous internship at the White House, Carter built a relationship with a PHC alum who was the first PHC intern at the FCC. "[Government Department Chairman] Dr. Haynes' work on the APP intern program is astounding! Most of the amazing internships that Government students receive have come about because of Dr. Haynes' dedication and heart for serving the students."
While interning at the FCC, Carter met with Vice President Pence and a few other interns. She was impressed by his strong sense of humility. From this, Carter refocused her desire to act similarly in humility and grace towards others.
Danielle Bliven, Alliance Defending Freedom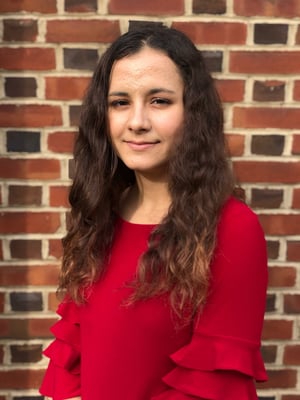 Danielle Bliven (JRN '22) works as a media communications intern at Alliance Defending Freedom in Washington, D.C. Bliven assists with researching religious liberty and freedom of conscience cases in the U.S., assists the various media team members with projects, and drafts blog posts. Bliven also has opportunities to network with professionals in media, law, and the political sphere in Washington, D.C.
"My work with ADF has helped me to see how vital and important this work is not only in the U.S. but globally," said Bliven.
______
Click below to read more about apprenticeships at PHC!