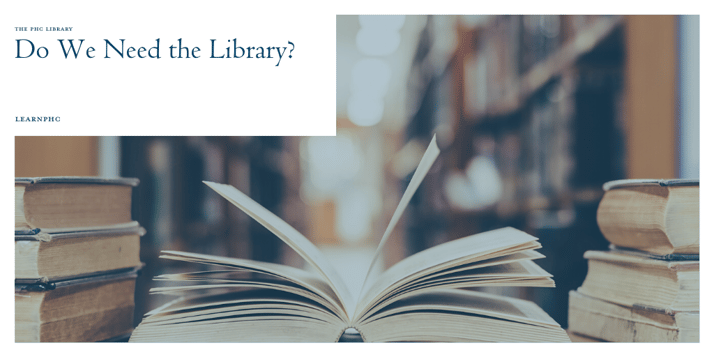 Research skills and the library resources are invaluable to strong writing in college and beyond.
Patrick Henry College is an academically challenging environment; often stretching students' study habits and research skills. First-year students typically face a steep learning curve when they arrive at PHC, and few could thrive without help from the library resources. The Patrick Henry College Study Support Center (a complimentary tutoring service created and managed by the library) is a tremendous aid for research and writing. The library also provides access to vital resources that would be otherwise unavailable to students, making it a useful ally alongside the internet.
One Patrick Henry College sophomore shared with me the story of a particularly challenging paper assignment that she wasn't sure how to write. Stressful, but also a learning opportunity!
Looking for a Muse?
She was lacking sources and even just basic facts for her music appreciation research paper. It was a really big part of her grade so she was worried. She needed books and studies on music theory, and who knows where to find books like that? But the library staff got me everything I needed—recommendations on titles to look for and even orders for some books through the inter-library loan system.
PHC's Librarians offer everything from hands-on citation review to help finding books and study material containing relevant research that students may not find on their own.
No one can really multitask
In our society, we have convinced ourselves that we can multitask, but I have yet to meet someone that does it well. Can you juggle multiple activities and do any of them with excellence? This practice of jumping about makes the development of skills needed for sustained and focused learning a challenge. Consistent breaks in our concentration hurts our ability to either comprehend well or communicate well. Reading is one of a very few daily activities that force us to slow down and to concentrate for sustained periods of time.
Why Sustained Focus Matters to All of Life
There are few things in life as mentally stimulating as sitting down with a book. When you read, you have to force yourself to focus—to shut out all but one of the thousand different things vying for your attention. Additionally, in an age where most of our time is being confronted with information on smartphones or computers, it is especially important that we develop the ability
to decipher good from poor information. Lastly, we need to think critically about good information in order to learn something of value. All of this is frustrated when we are incapable of sustained focus on any one thing.
The PHC librarians are committed to helping students study more efficiently, but also to helping students develop into learners—life-long learners. They are here to help the learner effective in their lives and work, all for the glory of God. Cultivating thoughtful and spiritual young Christian minds is where the real value to learning is. Education has no real value unless it is applied. Intentional research and writing are two of the best ways to be more effective with our God-given abilities.
PHC's library and librarians allow students to practice research and writing in a convenient and supportive environment.
About the author: Beckett Millhouse is a sophomore at Patrick Henry College. Born, raised, and still living in Purcellville, Virginia, he enjoys playing guitar, creative problem solving, and debating politics and philosophy. He hopes to graduate with a degree in Government specializing in American Politics and Policy and eventually move into public service as a federal employee specializing in policy analytics.
______
PHC graduates think clearly, communicate persuasively, and are best equipped to serve Christ faithfully. PHC exists for Christ and for liberty.