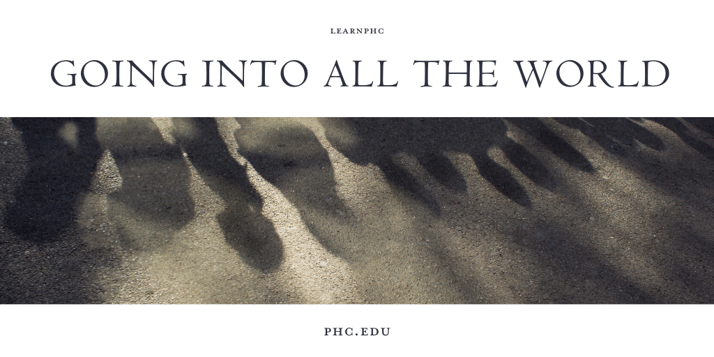 Patrick Henry College is a Christian organization. This means that from classes to dorm life, Patrick Henry College seeks to put Christ and his Word before all else. It's the ruler by which all campus programs are measured. That's why Patrick Henry College encourages students to obey Jesus' command to make disciples of all nations.
Through channels such as wing chapel, cooperate chapel, and Faith and Reason lectures, the school hopes to equip its student body with the spiritual tools it needs to carry out the Great Commission; go into the world, preach, baptize, and disciple. It also organizes international mission trips for students who are willing to set aside time and resources to put their skills to work. These cultural opportunities give students the chance to see the mission field—and Christian mission—first-hand. Moreover, it impresses upon students the desperate need for the Gospel to be shared in every part of the world.
[READ: Travel Opportunities at PHC and the Global Studies & Service Program.]
Meeting Physical and Spiritual Needs in Honduras
Students from PHC partnered with World Gospel Outreach (WGO) in 2017. This non-denominational organization affirms the mission of the Gospel and attempts to bring the good news to impoverished communities through local churches. They do this by providing certain services at points of outreach. Students from PHC used WGO's connections to bring medical supplies and attention to local families in need. Many impoverished families lack the resources to visit a dentist or treat infections. That's why with small, dedicated clinics, WGO seeks to make individual impacts by treating people with the help they cannot afford.
Helping Families in Desperate Need
Greece has seen a lot of tragedy in the last few years. In an area plagued with distress, illness, and violence, the people of Greece have witnessed impoverished and needy refugees flee from both Syria and Afghanistan. The sad reality of these situations, however, is that they look for a new life and often find a dead end. Without the tools to improve their living situations, many refugees make the most of squatting in buildings and living on the street.
Students at Patrick Henry College know that these are people created in God's image. They need help. Here's what alumnus Matthew Hoke had to say about his time in Greece:
"Are people half way across the world still people?" Though it is a pretty basic question, the trip that I attended over Spring Break to Athens gave me my answer. On an intellectual level, I believed that all people are the same. Being there cut through the political rhetoric that clouds the refugee crisis. I realized that these are real people with the same real needs that anyone in the West feels. I saw people who needed the hope of Jesus.
Part of a holistic education involves developing a realistic understanding of what the world looks like. It's ugly, tainted with sin, but it's still our world. Students at Patrick Henry College need to understand that without a Christian perspective, it's impossible to see more in this world than brokenness. But without context of how far that brokenness extends, we feel no urgency for a solution.
These mission trips provide students at Patrick Henry College a better idea of the real needs in the world, giving them the opportunity to directly address them in tangible ways.
______
Leo Briceno graduated from Patrick Henry College in 2021 with a B.A. in Political Journalism. Leo has grown up in Northern Virginia and has remained in the the area to work in the news industry in Washington, D.C.
PHC graduates think clearly, communicate persuasively, and are best equipped to serve Christ faithfully. PHC exists for Christ and for liberty. Learn more about the mission trip opportunities PHC offers below.