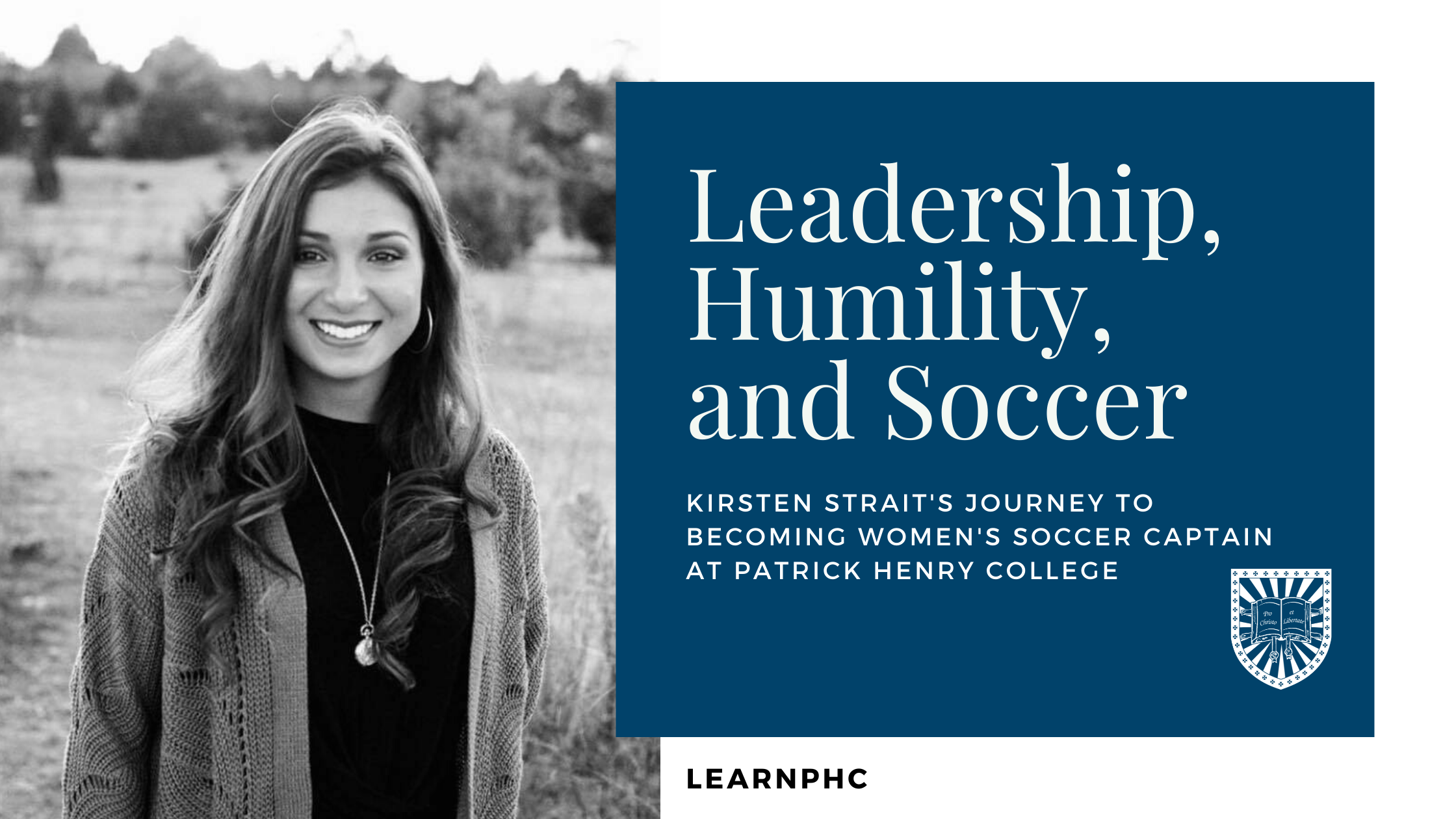 From an early age, Kirsten Strait remembers cheering for her favorite sports teams. Whether it was a professional Ohio team or one of her siblings' teams, Strait has always loved the thrill of the game. "I have grown up watching sports. . . . it was always tennis with my grandpa and March madness with my dad," Strait reminisces. Despite her devotion to many sports, her true love has always been soccer. From her time playing both in high school and at Patrick Henry College, Strait has reaped the blessings of hard work, humility, leadership, and stronger devotion to God.
At just six years old, Strait began her soccer career playing recreational soccer. She later switched to a more advanced league when she was ten and played on two different teams during middle school.
As a freshman in high school, Strait made the soccer team as a starter because there were exactly eleven girls on the team (the minimum to play in a game). While Strait was moderately skilled at footwork, she had mainly been accepted because of her speed.
During her junior year, Strait's team gained a lot of talented freshmen with both speed and technical skill. Strait's high school coach chose players based on skill, not seniority, so Strait was benched a few games that year. Initially, Strait was disappointed that she had been replaced. However, she respected her coach and trusted his decision.
One requirement from the coach was that each player led a session of the team's weekly Bible study. For her topic, Strait chose to talk about humility. She brought up about how being benched had convicted her of her pride, and also about how it inspired her to work harder. Strait decided to turn her words to actions. During the summer before her senior year, she worked harder than she had ever worked before. Despite her asthma, she pushed herself to her limits.
Strait was rewarded by not only being reinstated as a starter but by becoming a captain as well. God further displayed His goodness when He allowed her team to beat their conference rivals. The experience was a roller coaster ride as her team tied, went into double overtime at 0-0, and then barely beat their rivals, 5-4, by one penalty kick, making them the Division Champions.
While her team's victory was a great reward, Strait's favorite memory from her senior year was her team's end-of-the-year awards ceremony. The "Troy Christian Eagle Award" was the highest award obtainable, gifted for integrity, sportsmanship, and leadership, among other things. She remembers her coach describing a player who had not been given playing time, but had led a Bible study about humility instead of complaining. When Strait received the award, she was almost in tears. Strait learned that skill and speed are not as valuable as humility and leadership.
When Strait later talked to the former PHC Women's soccer captain and the head coach Howard Schmidt, about PHC's program before her first year of college, she remembers her excitement as they expressed their love for soccer and serving God. Strait had already decided to attend PHC because of its high academic standards and biblical worldview, and the soccer program further convinced her of God's plan for her at PHC.
Playing soccer at PHC has allowed Strait to grow in humility and in leadership skills. She has enjoyed the opportunities to work with other teammates and to strengthen each other through the soccer program's diligence, inclusivity, and godliness. As she steps into her role as captain for the 2022-2023 season, she is excited to be part of Head Coach Schmidt's plan to continue building the soccer program.
"[Coach Schmidt] has a love for the game that is inspiring, and I really appreciate and admire that," Strait says. "He has a great concern for players, both in soccer and in their relationships with Christ."
-----
Interested in playing sports at PHC? Learn more about PHC athletics below!