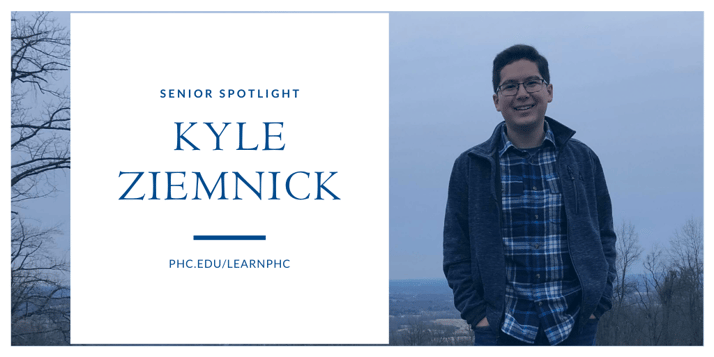 Patrick Henry College senior Kyle Ziemnick has interned at WORLD since the summer of 2018. Ziemnick initially worked on their podcast, The World and Everything in It, and he began writing for their website in the summer of 2019. We chatted with Ziemnick about his most recent story for The World and Everything In It , "Pepperoni and Prayer."
Q: When did you start creating podcasts?
I started my first podcast at the World Journalism Institute in the summer of 2018, and it was about an airport being built in Iowa. It was a lot of fun; I got to walk up to an airplane as it was taking off while holding a mic. I really enjoyed that first podcast, and although podcasting isn't what I'm planning on doing as a career, it's still a lot of fun to just take a break, find a great story, and put together a piece that captures it well.
Q: What does creating content for The World and Everything in It look like?
The process starts with talking to my editor about picking a story, and then settling on an idea with enough audio and narrative potential. Then, over usually one day, I'll record all the necessary interviews and sound that I need, which takes up to half of my day. I'll bring it all back and then write a script, which goes through several rounds of edits. Finally, I record the narration in our radio lab, and I send that along with all my recordings to WORLD, who puts the final piece together.
Q: What did you enjoy most about creating content for World?
Being able to discover unknown stories about people that most wouldn't think of at all. You don't know how many compelling and God-glorifying stories are all around you until you have to look for them.
Q: How did your featured story "Pepperoni and Prayer" come to be?
Manhattan Pizza opened up fairly recently as another of now many options for hungry PHC students, and Jack Azar, the owner I interviewed, came and visited PHC. Dr. Sillars told me about his story, and we agreed that it would make a great radio piece. I pitched it to my editor, who loved the idea.
Once I heard that Azar grew up in an orphanage in the Middle East and now owned a pizza shop in Western Loudoun County, I was hooked. That kind of story doesn't come along all the time. After talking to him on the phone in a pre-interview, I learned about how he wanted to serve God by serving food to others, and that created a great focus for the podcast piece.
"The World and Everything in It is a fantastic podcast. World consistently does a great job of being as professional as NPR while keeping true to a Christian worldview throughout. They impress me every time I listen to them. And my specific story can be found here – if you want to hear about a restaurant owner who does it for the right reasons, take a listen," said Ziemnick.
______
Click below to read more about the Journalism Major at PHC!