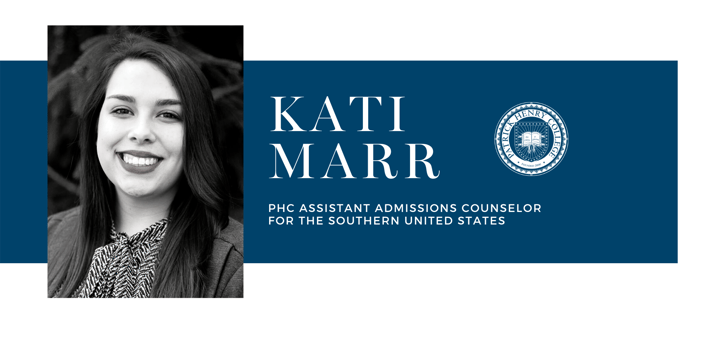 Kati Marr has been involved in admission work since her freshman year of high school. Now halfway through her junior year at Patrick Henry College, she's an assistant admissions counselor (AAC) to the Southern United States.
It's a job she's familiar with and one she's been looking forward to working since she came to Patrick Henry College.
"I've always wanted to be part of the admissions team here because my admissions process was so personal and it was a total blessing the whole way through," Marr said.
Marr didn't expect to study journalism at Patrick Henry College. In fact, a month before she applied, she didn't even know the school existed. Having moved to Northern Virginia from out of state, Marr was one of the last applicants in her class. She remembers how, at the time, the admissions team went out of their way to help her pull together an application so that she could become an enrolled student in the fall.
Now, she's come full circle, helping students put together application essays, gathering their test scores, and conducting college interviews.
This isn't her first rodeo. 2020 will mark eight years of Marr's involvement with admissions in some capacity. Marr served in the Office of Admission for her high school, taking a gap year after she graduated to fill a leadership role in Office of Admission for the private school she attended.
At PHC, she started working for the Office of Admissions in December of 2019, and since coming onto the team, Marr has been encouraged to see so many students apply who are eager and interested in living out the mission of Patrick Henry College.
"They're the kind of kids that make the job worth it. You know that if they come here, they're going to succeed. You talk to them and you instantly want to be their friend and see them succeed," Marr said. "God is going to use them in some amazing ways."
When administration at the Office of Admissions called Marr and offered her a position, Marr took the opportunity and didn't look back.
"I really love the school and I really want people to know about it," Marr said. "It's a combination of people that I really want to meet and get to know and letting them know about the school that I love and the school that I hope they love . . . an admissions role just perfectly combined those two things into one job."
To meet more of the PHC admissions staff or to get help with your college application, click here to learn more!
------------