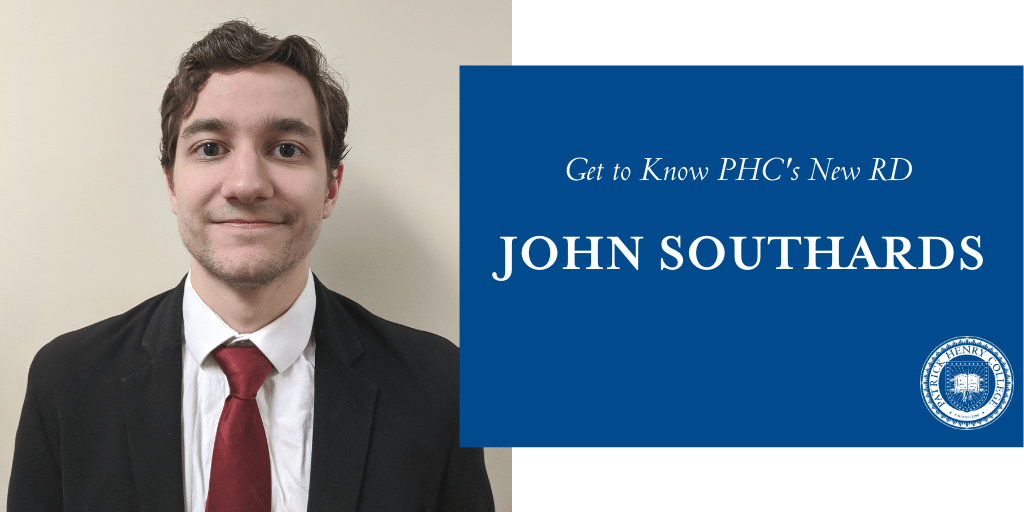 John Southards, a graduate of Patrick Henry College's Class of 2020, is excited to begin his new job as PHC's Resident Director for men. We asked him a few questions about his journey from student to RD. Here's what he said...
How did you get the position of RD?
I had been praying about the possibility for a few weeks before I even knew whether PHC would need a new male RD. Leaving campus in March just didn't feel right. Later, Dean Corbitt began the job search and I applied!
Do you have previous experience with this type of position?
I have obviously never been a resident director before, but I was an RA for two years (shout out to the Barracks!) and a Teen Leadership Camps counselor. There's definitely going to be a lot about this job I'll have to learn, but I'm not a complete stranger to this sort of work.
What are your expectations going into the job?
As I mentioned, I'm looking forward to learning about how to help life on campus run smoothly. For those of you who don't know Dean of Students Sandy Corbitt, Associate Dean of Students Jeff Thornhill, and RD for Women Kiara, they're fantastic people. I expect I have a lot to learn from them. I also expect to be the one guys call when they get locked out of their rooms. I called Stan and David enough that it's time I started returning the favor.
What are you most excited about?
I am really excited to spend more time with students. There are a lot of students who I never really got to know or didn't get to know as well as I would have liked. Because I was so busy with schoolwork last year, I didn't have much time to invest in campus. For instance, I've wanted to have a regular public Bible reading with students, but I had trouble squeezing it into my schedule. I'm working on a few other ideas like that one, and I'm excited about the prospect of growing alongside students.
Are you nervous about certain aspects of the job?
Certainly. This campus has been blessed with truly amazing RDs. It's difficult to imagine trying to fill the gap that they have left. In many ways, I won't. But I also know that God has a habit of working through less-than-amazing people, and my trust is in Him.
What do you want PHC students to remember you for during your time as RD?
A large part of what I want to focus on is reflection. People are always changing, always becoming something more (or less) than they are at present. I want to encourage campus (myself included) to make a habit of considering who it is that we are becoming. On top of that, I would like to encourage students to spend more time thinking about good things. College can be a very stressful environment at times, and I know I could have done a better job at following Paul's exhortation: "whatever is true, whatever is honorable, whatever is just, whatever is pure, whatever is lovely, whatever is commendable, if there is any excellence, if there is anything worthy of praise, think about these things" (Phil 4:8). When students look back on the time that I was an RD, I don't want them to think of me. Instead, I want them to think about the richness of God and his world and to consider their role in it.
I would like to offer an illustration of how I view this job. As an RD, I will have the privilege and the duty to try to make campus more like a home for students. I want campus to be a place where students can rest easily, reflect on their lives, grow spiritually, enjoy themselves, and form good friendships. Like all good homes, this one has house rules. Whether I'm hosting a group event or reminding someone of community standards, know this: I am doing it to help make campus a better home. If any students are reading this, I want you to know that, while I'm RD, if you think I could be doing a better job at making campus a home, come talk to me. Like the rest of Student Life, I want to help.
______
Click below to read more about spiritual life at PHC!