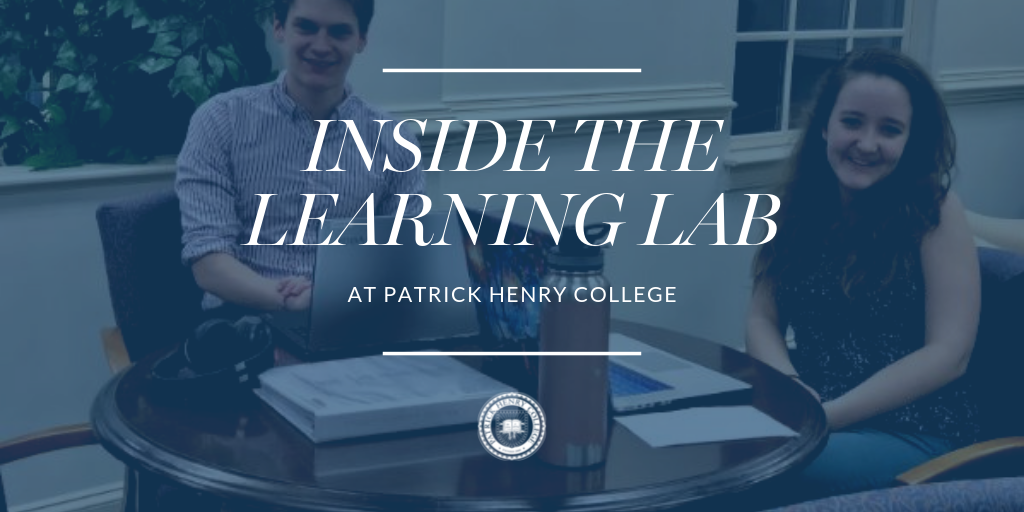 Three nights a week you can find two Patrick Henry College students sitting around a table in the upper level of the library, laptops in front of them. Sometimes they are reading over freshman history papers, walking a student through geometry homework, or occasionally even giving advice and encouragement on navigating the semester.
This is PHC's Learning Lab where student workers help their peers with academic problems or questions.
"We help people with whatever assignment they bring but we try not to fix the assignment for them," Marina Barnes another instructor said. "We are going to show them the problems and explain how to avoid them in the future." Though they see many freshmen, students of all classes come to the lab. "Sometimes we give general life advice and tell people that everything is going to be okay and to not stress as much as they do, too," Barnes said.
On this particular occasion, the two Learning Lab instructors, Gabe Blacklock and Marina Barnes, are chatting and laughing as they prepare for their shift. Blacklock, has just started playing a song he composed from his laptop. A student worker from the library below advances up the stairs and pops his head over the balcony. "What do you think I'm going to say?" the worker mutters over the music jokingly. Blacklock quickly switches off the music. "Thank you," the worker says. "This is a library."
The Learning Lab instructors want students to know they don't need to be intimidated to come to the Learning Lab for help with school.
"It's just like if you're working on an assignment and you wanted one of your friends to go over it who maybe is a more experienced writer than you," Blacklock said. "It's just like that only we're here all the time."
He emphasized there is nothing more helpful to your writing than having other people looking it over. Blacklock explained that he did not like when his mom would mark up his papers before sending them in for high school classes. To remedy this, he tried waiting until the last minute to write papers so his mom would not have the time to give feedback.
"I realized I actually need to pay attention to this advice or else I'm not going to improve," Blacklock said. He started implementing her suggestions and watched as his grades improved.
The assignments the Lab gets the most are papers. The instructors read over the papers and give general advice on how to improve.
---
Find out more about what sets PHC apart from the status quo in rigorous academics, it's unwavering biblical worldview, and commitment to the spirit of the american founding.