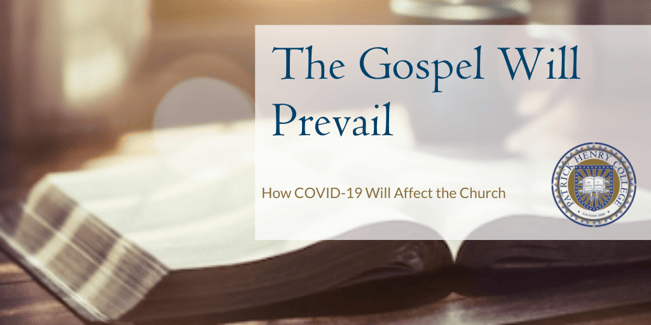 In light of the recent disruption to the world, Patrick Henry College alumna and author Brooke Hamlin , spoke up about how COVID-19 will affect the future of the church.
We chatted with Hamlin and dug deeper into the meaning and reason behind a video she posted on April 10 about how the church has prevailed.
Questioning the Future of the Church
"I was inspired to create this video (linked here) after overhearing a conversation between my church's worship team and my brother one Sunday morning while we were preparing to livestream our service," said Hamlin.
Hamlin listened to their questions of what the future of the church would look like after being forced onto digital platforms as they wondered whether or not giving would continue and if people would choose to recongregate after such a long absence.
"My brother, (the youth pastor) cut in and said, 'You know what guys, the church has adapted for 2000 years. I think we're going to be okay.' As he finished this statement, my mind was immediately hit with what I lovingly refer to as a 'divine download,'" said Hamlin. Referring to God giving her an entirely fleshed out idea, Hamlin quickly recorded her thoughts.
"The most successful projects I have ever worked on have been these sort of 'divine' flashes of inspiration that come in an instant," said Hamlin. "When this happens, I know it's from Him."
Confidence in the Past Resilience of the Church
Hamlin found herself stuck by the truth of her brother's statement, and by the overwhelming victory that the church has already experienced. because of this, Hamlin knew this was something God wanted her to share.
"It's so easy to become obsessed with our current circumstances, which can quickly spiral into despair," said Hamlin. "I think that's why the Bible frequently encourages us to remember the Lord's past actions on our behalf."
Hamlin remembers how David during his long stay in the desert remembered the Lord's past provisions, which kept him from despairing during his long ordeal and helped him look forward to the kingdom God had promised him.
"Whenever we think of our circumstances in the context of God's larger story, we can be encouraged and at rest because our future in Christ is never in jeopardy," said Hamlin.
Absence Highlights Precious Connection
"This extended absence from physically congregating with each other has highlighted the preciousness of the Body of Christ," said Hamlin. "Sometimes we have to temporarily lose something in order to understand its value.
When one's body experiences an injury to one single member, one realizes the importance that member had in working with the body as a whole. One injured part of the body can affect the function of everything else.
"In the same way, when we lose the other members of our 'Body' in Christ, we suddenly realize how handicapped we are and how essential our churches were all along," said Hamlin.
This crisis of absence highlights the connections we normally have, which is deeper than physical presence. Similarly, with the Holy Spirit, we have a connection to God.
"We have a connection that no amount of physical distance can sever. And that's amazing," said Hamlin. "I think this crisis has created unity in the universal Body of Christ and caused believers worldwide to cling to and connect with each other in a new and precious way."
A Kingdom that Cannot Be Shaken
"The Kingdom of God is not coming into this world on the laurels of the triumphs of humanity, but despite the worsening corruption of humanity," said Hamlin. "The Kingdom of God is not subject to the rise and fall of the kingdom of man."
Hamlin understands the jarring realization that the Kingdom of God and the kingdom of man are often at odds. However, "It is a peaceful realization to understand that an earthly crisis does not equal Heavenly panic," said Hamlin. "That which is written out of dust cannot suppress what has been written by God."
In her conclusion, Hamlin speaks of the importance of understanding that God came to this earth in the way that He did because He wants us to be certain that we are receiving the kingdom that cannot be shaken.
"Not by a virus, not by economic downturn, not by 'life or by death or by anything else in all creation,'" said Hamlin.
"Let us use this crisis to ask ourselves what storyline we have tied our lives and our livelihoods to. If I am tethering myself to building my own kingdom, or to the success of this world, I am going to lose.
One of the very last things Jesus promised was peace; not difficulty-free peace, but a peace despite outward difficulty.
The dividing lines between kingdoms has been broken wide open for us in this tragedy.
Let us... immerse ourselves in the story that will last forever."
______
Click below to read more about Patrick Henry College's Alumni!